A general meeting of CBS (Australia) was held on 2 June 2002, the result being the re-establishment of the Australian region of the Confraternity. The Ward of St Mary, Melbourne, has operated from St Peter's Eastern Hill for many years and meets on the first Sunday of the even months of the year at 5pm for Evensong & Benediction, followed by a meeting and a meal.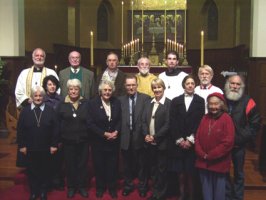 The Confraternity exists for the advancement of the catholic faith in the Anglican Tradition with the following objects:
to honour Jesus Christ our Lord in the Blessed Sacrament of the Body and Blood.
to pray for one another at the Eucharist.
to observe and promote careful preparation for Holy Communion, including the Eucharistic fast.
The Confraternity also undertakes projects in the worldwide Church to provide grants for the provision of vessels, vestments, tabernacles, etc to promote the proper celebration of the Eucharist and due reverence in the reservation of the Sacrament.
Membership of the Confraternity is open to clergy and laity of the Anglican Church who support the Confraternity's Objects. For further enquiries contact the Ward Superior at St Peter's on 03 9662 2391 or the Secretary/Treasurer on 0439 369 911.
God our Father, whose Son our Lord Jesus Christ in a wonderful Sacrament has left us a memorial of his passion; Grant us so to venerate the sacred mysteries of his Body and Blood, that we may ever perceive within ourselves the fruit of his redemption; who lives and reigns with you and the Holy Spirit, one God, for ever and ever. Amen.

The Confraternity In England maintains a web site that might be of interest to members...

http://www.confraternity.org.uk

Top | Parish Groups | St Peter's Home

Authorized by the Vicar (vicar@stpeters.org.au)
Maintained by the Editorial Team (editor@stpeters.org.au)
© 2002–2013 St Peter's Church