Vicar's Musings for the Second Sunday in Advent
9 December, 2012
This week our Archbishop announced the news that the Venerable Alison Taylor, Vicar of St John's Camberwell, will be consecrated in the Brisbane Diocese as the fourth woman bishop in the Anglican Church of Australia. The news came just two weeks after the General Synod of the Church of England narrowly defeated legislation that would have allowed women bishops there. This was despite the Archbishop of Canturbury elect, Justin Welby, giving his full support prior to the vote: "The ministry of women in the last 20 years has contributed enormously to the Church of England .... For most of those coming to faith, it is the normal order of things. The ministry of women priests has been powerful in all areas of the Church — except as part of the episcopacy .... I urge the General Synod to vote for this motion." Only three bishops opposed the legislation, and there was strong support from the house of clergy also. It was the house of laity who blocked the proposed revision, falling just six votes short of the two-thirds majority required.
This afternoon, at 2.30 pm in St Paul's Cathedral, our own Diocese will celebrate the twentieth anniversary of women's ordination. The Rev'd Elizabeth Alfred, now 98 years old, and 32 other women were ordained in 1992 after decades of debate in the Anglican Church of Australia. The Rt Rev'd Barbara Darling, consecrated in 2008 as Melbourne's first woman bishop, will be presiding and the preacher will be the Rev'd Canon Dr Colleen O'Reilly, Vicar of St George's Malvern, and a pioneer of women's ordination in Australia since the 1970s.
Here at St Peter's there have been changes over the years too. Women now serve regularly in the sanctuary and administer the chalice, the Rev'd Dr Dorothy Lee and other women have preached from the pulpit, the Rev'd Jenny Inglis joins us in the sanctuary each year to celebrate our Patronal High Mass, and this year Sharne Rolfe was the first female theological student to be trained by the parish. I am fully aware that many in the parish are supporters of women priests and bishops, and also that some are strongly opposed. As your Vicar I do not intend to smash traditions or trample unduly on people's deeply held beliefs, but I do think that ultimately change in this area is inevitable and needed. We belong to an Anglican Communion that ordains women, and there are powerful Biblical and theological arguments to support this. I have a deep respect for the women priests and bishops I have worked with over the years, and my prayer is that one day — in God's time — we will join the many other Anglo-Catholic parishes who welcome women priests and bishops at the altar.
The Rev'd Dr Hugh Kempster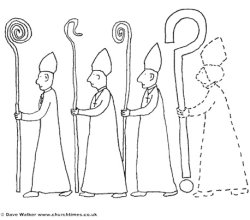 Views is a publication of
St Peter's Eastern Hill, Melbourne Australia.