Vicar's Musings for Advent 2
9 December, 2018
I am delighted to announce the return of St Peter; or more particularly, the replacement of the lectern statue of our Patron Saint which was stolen earlier in the year. The silver-lining in this theft, has been the commissioning of renowned Irish-Australian wood-carver, Veronica (Ronnie) Sexton, to carve a new St Peter. This week Ree and I went to pick him up from the "Woodhenge Carvings" studio (see http://woodhengecarvings.com) and had a delightful cup of tea with Ronnie. She was classically trained in London, and has an inspirational story of how an "angel" drew her into the very different style of carving that she is now so renowned for.
The "angel" was an old slab of wood that was gifted to her by a wood merchant. "I have something for you Ronnie," he said, "you can have it for free." Ronnie excitedly walked with the merchant past rows of beautiful eight-foot slabs of wood; then he reached into a dim dark recess at the back of the yard, and returned with an ugly, rotten, blackened, stunted slab. Deeply disappointed, this English-trained master-carver said her obligatory thank you, with the sort of forced smile that we all know, and the slab then sat awkwardly in Ronnie's home for months.
Finally Ronnie started begrudgingly to work on the slab, after musings over cups of coffee: "I could cut that out" and "these knots could be covered by polished stones." And miraculously, what emerged was the most stunning numinous angel! Then after the angel, breaking completely from her classical training, Ronnie produced a series of eight-foot carved slabs, the Woodhenge Series, that has set her apart as one of Australia's leading wood carvers. I love this story. It is an Incarnation story. From the most ordinary and even ugly beginnings, profound hope, and life-purpose can be born by the breath of Holy Spirit ... and the Angels. A message for our church at this time perhaps.
We have not yet set a date for the blessing of the new St Peter's statue, but I will discuss this with the new Parish Council today, at our first meeting. Watch this space!
The Rev'd Dr Hugh Kempster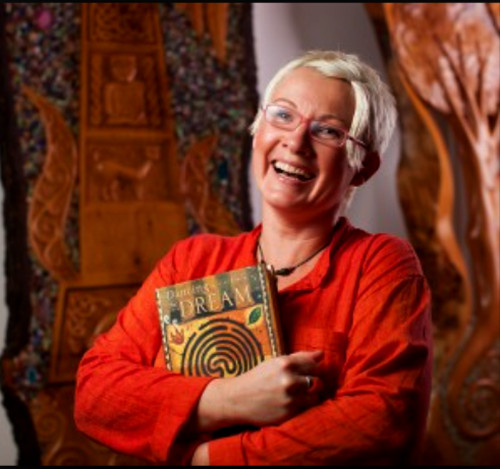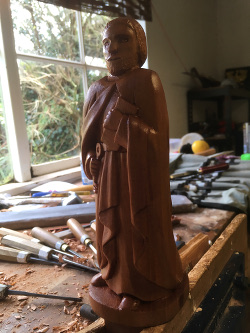 Views is a publication of
St Peter's Eastern Hill, Melbourne Australia.