Vicar's Musings for the Third Sunday in Advent
15 December, 2013
There was a wealth of information in the Annual Report to the 2013 AGM, but three omissions in the Vicar's report due to lack of room: his work as Area Dean, as Director on the Board of the Brotherhood of St Laurence, and as Chaplain to State Parliament. This is the last of the Vicar's musings over the three weeks up to Christmas touching on each of these three elements of our parish outreach and service.
At the end of my interview for the position of Vicar at St Peter's Eastern Hill, the Bishop added: "And the job also involves serving as Chaplain to State Parliament." I asked what the duties are: "O that's up to you" was the reply. It is an unusual job description, but actually very accurate as it turns out. The first thing I undertook was pastoral visiting, making appointments to see the Speaker and President, and then working my way through the list of parliamentary representatives. After a while I was asked to officiate at a memorial service to commemorate those lost in the Bali bombings, but most of the time I work behind the scenes in a pastoral role. We host a Parliamentary Prayer group at St Peter's each Wednesday, on sitting days, and this has been a good way of getting to know a few members well. I have attended a number of public meetings and functions at Parliament, and sit in the public gallery from time to time to get a feel for the debate around current issues and the dynamics of our legislative chambers.
A highlight of the past year for me personally is an evening that we hosted at St Peter's, along with the William Wilberforce Foundation and the Hon. Murray Thompson, State Member for Sandringham. The event marked the 150th Anniversary of President Abraham Lincoln's Gettysburg Address, and key note speakers were the Rev'd Dr Stuart Piggin from Macquarie University, and the Rev'd Dr Mark Durie, Vicar of St Mary's Caulfield. A dinner followed and responses to the formal addresses were given by Mr John Anderson, former Deputy Prime Minister and Patron of Wilberforce Foundation, and the Rev'd Michael Tate, former Tasmanian Senator, federal minister, ambassador and now a Catholic priest. (For a full write-up of the evening see the Diocesan web site). It was an inspiring evening, attended by more than 120 people; and is an encouragement that the chaplaincy work at State Parliament is beginning to bear fruit.
The Rev'd Dr Hugh Kempster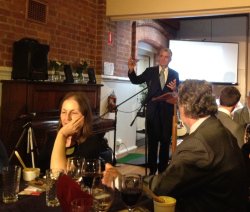 Views is a publication of
St Peter's Eastern Hill, Melbourne Australia.