Vicar's Musings for All Saints Day
2 November, 2014
Today we welcome Dr Ben Myers to St Peter's as guest preacher, accompanied by two of his three children, Felicity and James. Ben lectures in Systematic Theology at United Theological College, within the School of Theology of Charles Sturt University, and has been a fellow of the Centre for Theological Inquiry in Princeton, a visiting scholar at Fuller Seminary, and is an Honorary Research Advisor to the University of Queensland's Centre for the History of European Discourses. His publications include Milton's Theology of Freedom (Berlin: Walter de Gruyter, 2006) and Christ the Stranger: The Theology of Rowan Williams (London: T&T Clark, 2012). Ben's most recent book, Salvation in my Pocket: Fragments of Faith and Theology (Eugene, Origen: Cascade, 2013), draws from his widely read blog Faith and Theology. Ben's reflections on the occasion of his daughter breaking her arm in Salvation in my Pocket (p. 8) drew me immediately into this wonderful little book of wisdom.
My daughter wants to be an artist. Or to be more precise, she is an artist. This is the first thing she will tell you about herself, after she has told you her name. From dawn to dusk she can happily do nothing but sit and draw .... Yesterday while I was playing with her at the park, she fell and broke her arm. We didn't get a wink of sleep all night. She lay in bed next to me tossing and turning and commanding me to stroke her arm — "but without touching it" ....
Ben then tells his daughter a story about the Russian prince who disguises himself as a pauper, goes out to see how the townsfolk live, but slips and breaks his arm.
When the story was over, there was a long silence. Relieved, I thought she had finally gone to sleep. But then she moved on the bed with a great sob, and said: "But it's my drawing arm. I won't be able to draw" .... Lying in the dark while my daughter wrestled with her thoughts, with that awful bone-cracking discovery of an inhospitable world, I found myself praying. Not just for relief from pain, not just for sleep, but also for her lucid intuition about what her little limbs are for — what she is for. May her arm still ache to draw the day her cast comes off. May she never grow satisfied with the tawdry three-dimensional drabness of this world. May she always long to colour it, to flatten it into shape, to bring forth those bustling graphite landscapes where the sun bats its eyelashes and all the birds smile knowingly and children's faces stretch out wide from ear to ear, straining to contain the enormous shining bubbles of their eyes.
The Rev'd Dr Hugh Kempster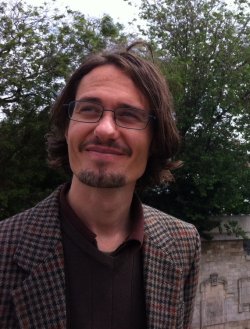 Views is a publication of
St Peter's Eastern Hill, Melbourne Australia.