Vicar's Musings for Ordinary Sunday 19
9 August, 2015
Today we commemorate the death of Jesus' mother. Anglo-Catholics and Roman Catholics call this day the Feast of the Assumption of the Blessed Virgin Mary. In the Orthodox Church it is known as the Feast of the Dormition of the Mother of God. Our scriptures are silent on the question of the death of St Mary, and in the first six centuries of the church there was some speculation as to exactly how she died. In Panarion, a fourth-century text written to counter heresy, Epiphanius of Salamis (c.320-403) emphasises the uncertainty of what actually took place: "The holy virgin may have died and been buried — her falling asleep was with honour, her death in purity, her crown in virginity. Or she may have been put to death — as the scripture says, "And a sword shall pierce through her soul" — her fame is among the martyrs and her holy body, by which light rose on the world, [rests] amid blessings. Or she may have remained alive, for God is not incapable of doing whatever he wills. No one knows her end."
By the sixth-century a much clearer dogmatic stance had been adopted, as is articulated in the writing of St John of Damascus (c.675-749): "St Juvenal, Bishop of Jerusalem, at the Council of Chalcedon (451), made known to the Emperor Marcian and Pulcheria, who wished to possess the body of the Mother of God, that Mary died in the presence of all the Apostles, but that her tomb, when opened, upon the request of St. Thomas, was found empty; wherefrom the Apostles concluded that the body was taken up to heaven."
On 25 June 1997 Pope John Paul II delivered a statement that best summarises the contemporary Roman Catholic view: "The New Testament provides no information on the circumstances of Mary's death. This silence leads one to suppose that it happened naturally, with no detail particularly worthy of mention. If this were not the case, how could the information about it have remained hidden from her contemporaries and not have been passed down to us in some way? As to the cause of Mary's death, the opinions that wish to exclude her from death by natural causes seem groundless. It is more important to look for the Blessed Virgin's spiritual attitude at the moment of her departure from this world. In this regard, St Francis de Sales maintains that Mary's death was due to a transport of love .... Whatever from the physical point of view was the organic, biological cause of the end of her bodily life, it can be said that for Mary the passage from this life to the next was the full development of grace in glory, so that no death can ever be so fittingly described as a 'dormition' as hers."
The Rev'd Dr Hugh Kempster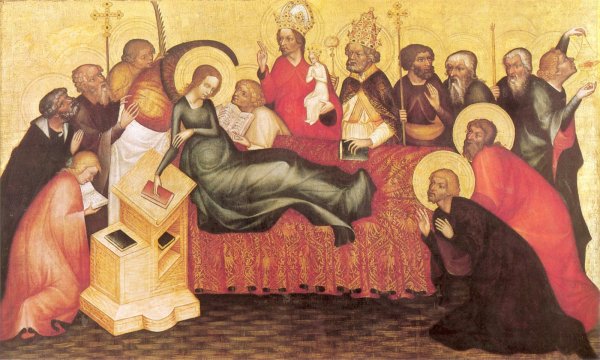 Grudziadz Polyptych, "Dormition of Mary" (c. 1390).
Views is a publication of
St Peter's Eastern Hill, Melbourne Australia.