Vicar's Musings for Holy Family
31 December, 2017
Thank you everyone for contributing towards such a wonder-filled Christmas this year: Fr Philip and Fr Greg; Andrew Raiskums, Sue Wuttke, Rhys Arvidson and the Choir; Peter Bryce, Adam Blackmore, David Morrell and all the serving team; Katherine Barnett, Phil Stranieri and all the Children's Ministry helpers and Pageant cast and props creators; Elizabeth Pemberton and Stuart Hibberd, with all your team of readers, intercessors and sidespeople; all who have helped Sue Wuttke, Judith Chapman and Cheryl Duff with hospitality; Rhonda Mach and her team on the Welcome Table; David Morrell, and Pete from the Lazarus Centre who made sure the grounds looked tidy and well cared for; and thanks to everyone who came to worship Our Lord at one or more of the seven services that started at 8am on Christmas Eve and concluded with Christmas Day High Mass.
Gloria in excelsis Deo!
The Rev'd Dr Hugh Kempster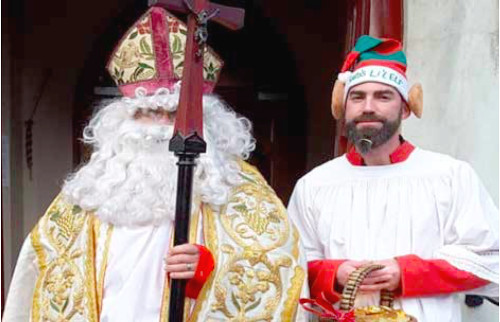 Views is a publication of
St Peter's Eastern Hill, Melbourne Australia.