Vicar's Musings for Easter Day
5 April, 2015
Blessings to you this Easter Day. Christ is Risen. He is Risen indeed! In this Year of Mission at St Peter's we have been busily preparing for the visit of our Missioner, Bp Stephen Cottrell, from 19th to 26th July. But our Mission as a parish is of course more than just one week of activities, and more than the ministry among us of an English bishop, however exceptional his abilities. Our call to Mission and to Catholic Evangelism should be an everyday concern, a faith habit. We are not just sitting about as a parish waiting for Bp Stephen to arrive, we are starting actively to look for new and creative ways to share the gospel through our faith tradition as Anglo-Catholic Christians.
For example, usually the left-over palm crosses sit in a bag waiting to be burnt and turned into ash on Shrove Tuesday next year. This year a small group of us went to Parliament Station to give them away. One 8am parishioner lovingly made an additional 100 crosses the previous night (while watching "Taggart"!). It was a great experience. We distributed some 300 crosses and fliers advertising our Holy Week and Easter services. I was surprised at the level of gratitude for our simple offering to the commuters. One smiling young woman said to me, on receiving her cross: "Thank you. My Mum was given one of these on Sunday. Now I've got one!" Another person sent me an e-mail later in the day: "Just a note to say 'Thank you' for the beautifully made palm cross I received this morning at Parliament Station. I think it was a wonderful gesture to remind people of Holy Week. It certainly brightened my day. Thank You!"
One encounter I had was particularly moving. I noticed an elderly man watching from a distance what we were doing. He stayed for a while, so I decided to go over and give him a cross. He thanked me, and introduced himself as an Egyptian Christian. "We should not be fighting," he said, "the message of the gospel is a message of peace." I asked if any of his family were affected the violence in Egypt. He then told me a terrible story of a relative who died. "As they moved the body from the house," he recounted with a tear in his eye, "one of the neighbours jeered: 'the dog is dead!'"
May Christ, the Light of the World, rule in our hearts this Easter-tide; and may we boldly live and proclaim a gospel of love, non-violence and compassion for all people.
The Rev'd Dr Hugh Kempster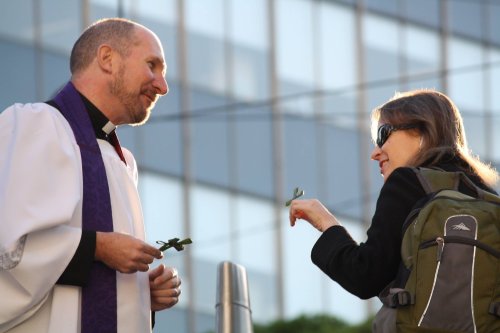 Views is a publication of
St Peter's Eastern Hill, Melbourne Australia.