Vicar's Musings for Low Sunday
27 April, 2014
This week's musings are taken from the Vicar's monthly report to Vestry.
We have had a most blessed Holy Week and Easter. Thanks to all the team: clergy, choir and musicians, servers, flower arrangers, readers, sides people, gardeners, those helping with hospitality, all who came to the working bees, and everyone who attended worship. Our celebrations of the Paschal mysteries at "The Hill" truly are a work of the people. Particular thanks must go to the lay leaders who work so hard behind the scenes to draw everyone together: Andrew Raiskums, Sue Wuttke, Rhys Arvidson, Peter Bryce, Bruce Kellett, Lisa Savige, Adam Blackmore, David Morrell, Helen Drummond, Elizabeth Pemberton, Carol O'Conner and Kosta Soteriou.
On Maundy Thursday we tried something new this year, opening up the foot-washing part of the service, so that anyone who felt so moved could come forward. It was good to see two overseas visitors participate, who would not have been able to do so otherwise, and also one of our younger parishioners. Later that evening I received a moving e-mail from Bp John Bayton: "tonight is the first time in 18 years that I had my foot washed. Eighteen years ago I had my feet washed five times — Anglican, Latin, Benedictine, Greek Orthodox (that year we coincided) and Syrian. The Syrian was the most wonderful of all because all those to be washed had Apostles names and our names were called out by the Patriarch; [our feet were] washed with Pears Soap, thoroughly lathered, kissed and anointed with Chrism." Another highlight was the Easter Vigil, where Bp Philip Huggins baptised Chadhor Mabor, confirmed Heather Kennedy and Monica Biar, and admitted Israel and Daniel Biar to First Communion. After baby Chadhor was baptised his godmother, Muna, proclaimed her joy with a shrill South-Sudanese-style cheer. It was truly beautiful.
The last few weeks and months have sadly seen the death of a number of parishioners. Thanks are due to the St Peter's clergy, the serving team, and others who have cared so lovingly and professionally for those who have died and for their families: Alan Newton (d. 16th February), Jan Hughes (d. 17th February), Julian Thornton (d. 16th March), Jack Armour (d. 10th April) and Ray Wilson (d. 18th April). May they rest in peace, and rise in glory. Our hearts go out to all those who have lost loved ones recently, and to those whose loved ones are presently unwell.
From time to time my role as Vicar requires me to have difficult conversations with staff or with parishioners. We are a Christian community, and as such there are high standards of inter-personal relationship required of us: "I give you a new commandment, that you love one another. Just as I have loved you, you also should love one another. By this everyone will know that you are my disciples, if you have love for one another" (John 13:34-35). Gossip, bullying, ignoring others, refusal to shake another's hand or pass the peace, impatience with children; these behaviours all undermine Christian community. It is a difficult issue to talk about and address. In general we are a loving and caring community, but when we slip up and make mistakes it sets us back a long way; especially as we prepare to enter, God-willing, into a growth phase through our upcoming Catholic Evangelism programme.
The Rev'd Dr Hugh Kempster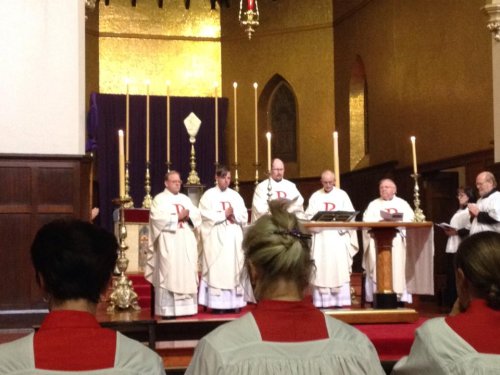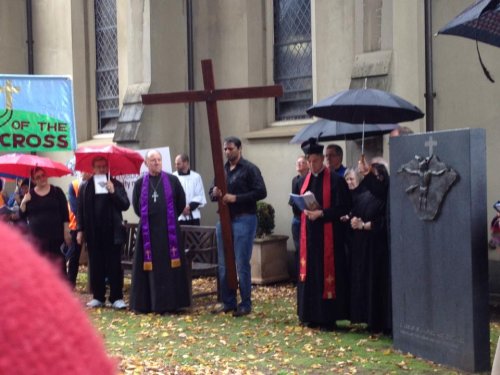 Views is a publication of
St Peter's Eastern Hill, Melbourne Australia.