Vicar's Musings for The Third Sunday of Easter
4 May, 2014
Churches are mixed places. Those of us who have been Christians for a few years will be very aware that we experience the very best and sadly at times some of the worst of human nature in faith community. St Peter's is like any other church in that regard. It is a frustrating and sometimes deeply disappointing reality. Surely we should experience heaven on earth at church. There's an old saying about this: "If you find the perfect church, don't join it ... or you'll spoil it!"
Anne Lamott's wonderful little book, Plan B: Further Thoughts on Faith (NY: Riverhead, 2006) tells the story of David Roche and "The Church of 80% Sincerity." David was born with a huge benign tumour on the left side of his face. Surgeons tried to remove it when he was very young. In the process, they removed his lower lip, and gave him such extensive radiation that the lower part of his face stopped growing, and he was covered with plum-coloured burns. David is now in his sixties, with silvery hair and bright blue eyes, and works as an inspirational speaker.
When he first gets on stage, in front of the hundreds of people, he usually encourages the audience to say in unison: "what happened to your face?" He then tells them about the tumour, the surgery, and the radiation burns. He tells of wanting to form a gang of the coolest disfigured people in the world, like the Phantom of the Opera, the Beast from Beauty and the Beast, Freddy Krueger, and Michael Jackson. "We with facial deformities", he says "are people of the dark. Our shadow is on the outside. And we can see in the dark: we can see you, we see you turn away, but one day we finally understand that you turn away not from our faces and our selves, but from your own selves and your own fears. You turn away from those things inside you that mark you as someone unlovable to your family, and society, and even to God." David adds, "All those years I kept my bad stories in the dark, but not anymore. Now I'm stepping out into the light. And my face has turned out to be an elaborately disguised gift from God."
David goes on to speak of the hidden scary scarred parts inside us all; the soul disfigurement we all carry; the deep fear within each of us that we're unacceptable. He tells of his inner journey towards self-acceptance, and how along the way he slowly built a church inside himself. This is no physical church, but only his own life experiences, his inspirational speaking, and his work teaching people to tell their own stories; their marvellous, screwed-up, and often hilarious resurrection stories. This is David's church. "We in the Church of 80% Sincerity do not believe in miracles," he explains. "But we do believe that you have to stay alert, because good things happen. When God opens the door, you've got to put your foot in. Eighty percent sincerity is about as good as it's going to get. So is eighty percent compassion. Eighty percent sobriety .... So twenty percent of the time, you just get to be yourself."
David's message is so contrary to everything that popular culture leads us to believe: if you look good, you'll be happy and have it all together, you'll be successful and nothing will go wrong, and you probably won't even have to die, the rot will never set in. It's a lie. Churches even slip into this error, picking up the spirit of the age, yearning for perfection, nothing less will do. David insists that we are fine exactly the way we are. He explains that in the Church of 80% Sincerity, everyone has come to understand that unconditional love is a reality, but with a shelf-life of about eight to ten seconds. Instead of beating yourself up because you feel unconditional love only fleetingly, you should savour those moments when they appear. As David puts it: "We might say to our beloved, 'Honey, I've been having those feelings of unconditional love for you for the last eight to ten seconds.' Or, 'Darling, I'll love you 'till the very end of dinner.'"
"I've been forced to find my inner beauty," David says at the close of his performance. "Doing that gave me a deep faith in myself ... eighty percent of the time! And that faith has been a window, so I can see the beauty in others too. The light in your eyes. Your warmth. Your courage. Your faith."
"The Perfect Church" by Mavis Williams
If you should find the perfect church, without one fault or smear,
For goodness sake! Don't join that church: you'd spoil the atmosphere.
If you should find the perfect church, where all anxieties cease,
Then pass it by lest joining it you'd mar the masterpiece.
If you should find the perfect church, then don't you ever dare,
To tread upon such holy ground; you'd be a misfit there.
But since no perfect church exists, of imperfect men and women,
Then let's cease looking for that church, and love the church we're in.
Of course, it's not a perfect church, that's simple to discern,
But you and I and all of us could cause the tide to turn.
What fools we are to flee our post in that unfruitful search.
We'll find at last, where problems loom, God proudly builds His church.
So let's keep working in our church, until the resurrection.
And then we each will join that church without an imperfection.
The Rev'd Dr Hugh Kempster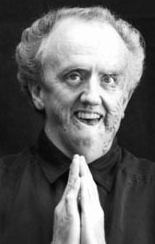 Views is a publication of
St Peter's Eastern Hill, Melbourne Australia.