Vicar's Musings for the Third Sunday of Easter
10 April, 2016
On Thursday 28th April, at 12.30pm, St Peter's Eastern Hill will host a memorial service for the 35 people who were killed at the Port Arthur massacre twenty years ago. Each year, since the tenth-anniversary, St Peter's has held a service for Melbourne-based survivors to light candles and toll the church bell for each of those who died. One of those who attends the service each year is Carolyn Loughton, whose15 year-old daughter Sarah was killed, and who was herself shot in the back by Martin Bryant. Another regular attendee of the annual memorial service is Lynne Beavis, an off-duty nurse who courageously ran into the Broad Arrow Café once Bryant had left, to help the wounded. Ian and Judy Fraser also regularly come to the services, and Ian made the memorial candelabra, which sits in shrine of St Peter, at the back of our church. You can read more about this beautiful offering from the Frasers to the vicitms on our web site.
There is a great deal of media interest in the 20th Anniversary of this terrible day, and you may have seen Tuesday's SBS "Insight" program, where Carolyn gave a harrowing account of those fateful moments in the café when she lost her daughter and was nearly killed herself. Next week, on Monday 11th April, there begins a two-part "Australian Story" program on ABC where you can hear more of Carolyn's incredible story of resilience, some of which was filmed here at our church.
The ABC will be broadcasting live from St Peter's Eastern Hill on Thursday 28th April, from 12.30pm. Our choir will be helping to lead a simple service of prayers, hymns and readings. At 1.10pm, the time when the first fatal shots were fired at the Broad Arrow Café, we will toll the church bell, read out the names, and in silence light a candle for each of the 35 vicitims. All are welcome to attend, and I hope that you can come and join us. Already I have had phone calls and text messages from parishioners saying that they are going to take time off work to be there for this important service. If you would like to help, there will be lots of jobs to do, such as setting up the hall and preparing refreshments for after the service. Please contact Kosta in the parish office if you can volunteer or would like to find out more details (ph: 9662 2391 or e-mail: secretary@stpeters.org.au). And above all please pray for these and all victims of violence.
The Rev'd Dr Hugh Kempster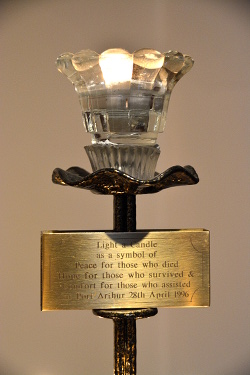 Views is a publication of
St Peter's Eastern Hill, Melbourne Australia.