Vicar's Musings for St Francis Day
5 October, 2014
In 1975 the rock band, Led Zepplin, produced a double album called "Physical Graffiti." It was the band's sixth album, recorded when they were at their zenith, but it nearly didn't eventuate as John Paul Jones, their bassist, keyboardist and co-songwriter, was seriously contemplating giving up the rock world and taking up a position as choir master at Winchester Cathedral. In the end he changed his mind and the album went on to top the US and UK album charts, selling nearly 9 million copies in those two countries alone. As a teenager I bought my copy of the album and the term "Physical Graffiti" been in the back of my mind ever since.
A couple of months ago I was cycling along the Moonie Ponds Creek Trail on a day off. This urban pathway is both beautiful and industrial, with its long tracts of concrete guttering beneath the Tullamarine Freeway, and its surprisingly tranquil creek bushland. At one turn I was stopped in my tracks by a piece of graffiti. It was not what I'd describe as physical graffiti, one of the numerous teenage tags that adorn the way, but perhaps a better description would be spiritual graffiti. "Meditate here" was spray-painted onto the concrete causeway with an arrow pointing up towards a bank of ancient rock. And I did. It was a surprisingly profound spiritual moment.
In his classic book St Francis of Assisi (1923) C. K. Chesterton writes: "In a word, we talk about a man who cannot see the wood for the trees. St Francis was a man who did not want to see the wood for the trees. He wanted to see each tree as a separate and almost a sacred thing, being a child of God and therefore a brother or sister of man" (p. 99). My spiritual graffiti artist was operating in this same Franciscan spirit, the spirit of the mystic in every time and age. Stop. Look. No, really look. And give thanks to God for the miracle of life and love that you see before you.
The Rev'd Dr Hugh Kempster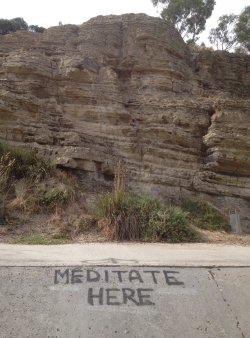 Views is a publication of
St Peter's Eastern Hill, Melbourne Australia.