Vicar's Musings for the First Sunday in Lent
9 March, 2014
The start of Lent has been a week of blessings. Shrove Tuesday was the first, with more than 50 parishioners gathering, of all ages and from all congregations, to eat pancakes and make ashes from last year's palm crosses. On Ash Wednesday the mood was fittingly more solemn at our three services of Mass and Imposition of Ashes. After the 7.15am Mass we decided to try something new this year: "Ashes to Go." It is an idea that a parishioner suggested a few weeks ago, after having seen it in action in Canada. Fr Samuel, Melissa Clark, Di Clark and I headed off, ashes and fliers in hand, and positioned ourselves in the midst of the morning rush outside Parliament Station. "Today is Ash Wednesday. If you would like a blessing you are most welcome," we chimed. The first few blank faces had us thinking that we would be standing like lemons for the next hour. But then the most amazing thing happened; people stopped and took up our offer. Lots of people. We even had people queuing up for a blessing on several occasions. I lost count, but over the hour would have placed ashes on the foreheads of about 100 people.
By God's grace I have blessed hundreds of people this week, quite literally, but did not expect the profound blessing I myself received on Friday. St Peter's was hosting a small gathering of priests for a special service, as we sometimes do. I prepared the Chapel, and the Vicarage dining room, for our guests and then sat quietly in the back row for the start of the service. Fr David Chambers was the celebrant, and the small congregation consisted of five fellow priests he was ordained with and their spouses. Suddenly it dawned on me how significant the occasion was. "My dear friends and colleagues," Fr David began, "we gather today to mark 62 years of ordained ministry." My jaw dropped. It was such a privilege to be present, and I must confess to having a tear in my eye when it came to the end of the service. All six priests stood, some with great difficulty, and together gave us their blessing. They spoke from a combined ministry experience of 372 years, not to mention their marriage partners one of whom is embarking on a PhD. Truly inspiring!
For those expecting a summary of part three in the "Church Times" series — apologies — but there was so much happening in the parish to muse on. The Vicar will resume these reflections next week, but if you'd like a sneek-peek do follow the link....
The Rev'd Dr Hugh Kempster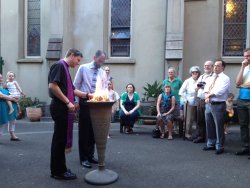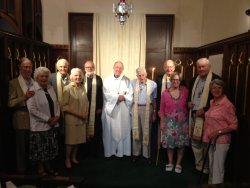 Views is a publication of
St Peter's Eastern Hill, Melbourne Australia.