Vicar's Musings for Ordinary Sunday 3
22 January, 2017
At the Annual Meeting in 2015, following on from our Parish Mission, the Parish Council (PC) established the 2016-18 Mission Action Plan (MAP) a summary of which you can see below. Our aim has been for it to be a living document, and so the PC focuses on one of the priority areas each month. Important as it is that the PC uses the MAP to drive strategic direction, it is also a document for the whole parish, not just the PC. Over the coming weeks, in my Musings, I will reflect on each of the seven MAP mission areas in turn, and I ask you to join with me in praying for our parish in this focused way. If new ideas, or a desire to volunteer in an area emerge from your prayers do talk to me, or one of the other PC members.
At the heart of our MAP is a desire to see our parish "Growing in God's Love." We would like to see our congregations grow and to welcome new members and new Christians into our church community. Catholic evangelism if you like. But growth is not just about numbers, "bums on pews" as they say! As important, is that each one of us make a commitment to grow in our faith, to care more lovingly for each other, to be a place of nurture for children and students, to deepen our appreciation of the Anglo-Catholic tradition, to advocate for social justice with integrity, and to manage church resources to the best of our ability.
Lord, in your mercy, hear our prayer ...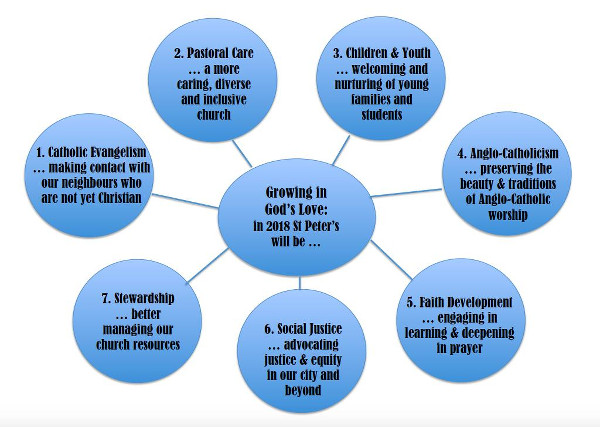 The Rev'd Dr Hugh Kempster
Views is a publication of
St Peter's Eastern Hill, Melbourne Australia.