Vicar's Musings for Ordinary Sunday 6
15 February, 2015
The Klingner Scholarship was founded in 1975, in memory of Harold Edgar Klingner, to support members of the St Peter's Guild of Servers in pursuing a call to ordination, or "other suitable candidates" in training for Holy Orders. Today at the 8am, 9.30am and 11am Masses we welcome the three 2015 Klingner Scholars who are all studying theology at Trinity College Theological School, and training for the priesthood. Louise Laing is known to many parishioners in her role as Team Leader of Anglicare's Homeless Support Services, managing the Lazarus Centre breakfast programme. Heather Scott lives near the Grampians in the Ballarat Diocese, and commutes to Melbourne for her theological studies. Heather has a background working with the Victorian Mental Health Authority and more recently running a small business. Ten years ago Moewin Tunkin was resettled in Australia as a Karen refugee from Burma. Melbourne has a strong Anglican Karen community of some 1,000 people, and is in great need of church leaders. Last year Nisher Kunoo was ordained a priest after two years as a Klingner Scholar, and we are delighted to be able to provide ongoing support for the Anglican Karen community through Moewin this year.
St Peter's Eastern Hill has long been a church where ordinands and those exploring a call to the priesthood have been nurtured and trained in the Anglo-Catholic tradition, many of whom have come through the Guild of Servers. This wonderful photo (below) came across my desk this week, on the occasion of the first visit of Archbishop Frank Woods to the parish in 1959. Three of the servers pictured here, Harvey Dineen and Michael Wentzell (middle row, 2nd and 3rd from right) and Albert McPherson (front row, extreme right) went on to become priests.
The Rev'd Dr Hugh Kempster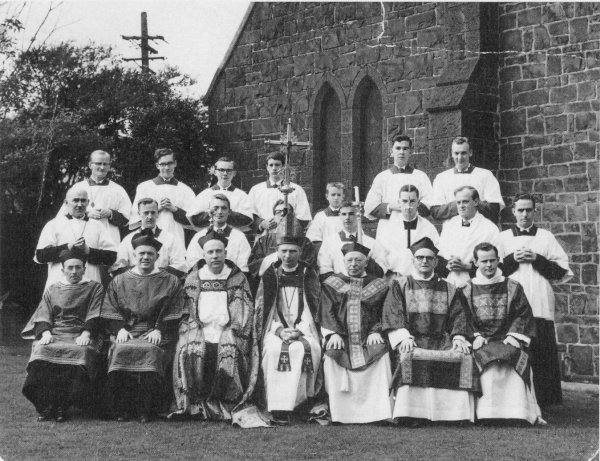 Views is a publication of
St Peter's Eastern Hill, Melbourne Australia.