Vicar's Musings for Ordinary Sunday 11
17 June, 2012
The role of Vicar at St Peter's Eastern Hill is a delightfully varied one. On Wednesday, for example, following Mass and prior to an appointment with one of the Members of Parliament I stopped for a chat with a small group of Lazarus Centre patrons. Our conversations often start with a passing comment on the weekend's footy (not my strongest knowledge base) but this day I was carrying a pile of books: "What you got there Vicar — a bit of theology for Sunday's sermon?" I replied that they were in fact books by and about the poet Judith Wright. One of the breakfasters jumped to his feet excitedly and came over to have a look. It turned out that he was a former Electronic Engineer with an avid interest in poetry who had fallen on hard times. My assumptions were challenged on a number of different levels. Subsequently during my meeting at Parliament I had an equally fascinating discussion about where and how we experience God. My second conversation of the morning centered on finding God in the wilderness and in particular the harsh beauty of the bush. Again the poetry of Judith Wright came to the fore and in particular her poem "Flame-tree in a Quarry". The weaving together of social comment, spirituality and appreciation of nature is majestic:
From the broken bone of the hill,
Stripped and left for dead,
Like a wrecked skull
Leaps out this bush of blood.
Out of the torn earth's mouth
Comes the old cry of praise.
Still is the song made flesh
Though the singer dies —
Flesh of the world's delight,
Voice of the world's desire,
I drink you with my sight
And I am filled with fire.
Out of every wound
Springs up this scarlet breath —
This fountain of hot joy,
This living ghost of death.

The Risen Christ is of course to be found when we gather in magnificent buildings such as St Peter's and break bread together. But God is also manifest in the people we meet, the city-scapes that surround us and perhaps most profoundly in the ancient landscape of this continent we call home.
The Rev'd Dr Hugh Kempster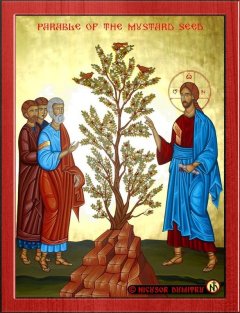 Views is a publication of
St Peter's Eastern Hill, Melbourne Australia.