Vicar's Musings for Ordinary Sunday 11
17 June, 2018
Perception is a strange thing. Some parishioners I've been talking to recently seem to be full of winter gloom, and perceive that the parish is going to hell in a hand-basket (well almost!). Others tell me how much they are enjoying the vitality of church life at the present time, and that the parish has not been in such good shape for many a year. As Vicar — resident on site and deeply connected across all the diversity of parish ministries and activities — I am in a fairly strong position to give an informed, birds-eye opinion on this matter. I think we are doing OK! In fact I'd go so far as to say that I am profoundly hopeful, even quietly excited at the state of our parish at this time. We are entering into a time of significant change at St Peter's, with all the challenges and difficulties that brings, but my overall perception is that God is at work among us, and that we are on the verge of a very significant step forward in the life of our parish.
Central to this is the Corner Plaza Development. We are about to embark on a building project that will quite literally transform the public face of St Peter's. Our last major external site works took place in 1928 when the Wayside Cross of Sacrifice was completed. It was a time of foundational development in the parish, with the building of the Parish Hall a few years earlier, and the foundation of the Brotherhood of St Laurence at Keble House soon after that. Since then, however, the physical public face of St Peter's has remained largely unchanged, other than a sprouting of the occasional hedge or tree.
Our new street frontage will put St Peter's on the map again, day and night, for the myriad of passers by and commuters. I can't count the number of people who have said to me, "I've been past St Peter's on the way to work for years, and never noticed it was here" or my favourite, "I thought it was a monastery." You can see from the 1898 plans I have reproduced below, that we are essentially reinstituting the original pedestrian entry to our site; and with this in mind the 1928 choice of placement for the Wayside Cross makes much more sense, pausing to remember the lost on the way to church (rather than cut off by a hedge).
The Corner Plaza development is about much more than a pedestrian entrance, however, or even the honouring of those who gave their lives in the Great War. The idea was originally conceived as an extension of our ministry to those in necessitous circumstances, and this was the vision of the Hon. Frank Callaway, God rest his soul, who gave seeding money of $120,000 without which we would never have been able to dream of completing such an ambitious project. The new Corner Plaza will provide a valuable platform from which the Coffee Cart Social Enterprise will be able to trade, providing an ongoing income stream from profits to assist the Lazarus Centre and other good works, as well as volunteer opportunities for those who may struggle to find employment.
For almost three years, while planning for the Corner Plaza development, we have operated a pilot of the Coffee Cart Social Enterprise and learned some valuable lessons. The original business model was closely linked with the Lazarus Centre and Anglicare, but that was unsuccessful primarily due to the difficulties of working with an organization of that size. A small business needs to be much more nimble and responsive than a State-wide agency, such as Anglicare, can ever be. So, in recent months we have been receiving mentoring and advice from Paul McConville who is Chair of Kinfolk, a highly successful social enterprise in the City. Under Paul's direction, Kinfolk has grown from fragile beginnings, to now opening a second café and plans for a third. We are truly blessed to have Paul assisting us in the start-up stage of our little venture.
As the end-of-financial-year approaches, I encourage you to consider giving generously to the 2018 Charitable Foundation Annual Appeal. Every dollar will make a big difference in this year of finally moving forward on the Corner Plaza and Social Enterprise initiatives, after years of planning. And please pass on the good news to others (rather than negative gossip, which some seem to prefer). Each week this month we will be giving out the Annual Appeal letter as an insert in the pew sheet. If you've already donated, then please consider passing the letter and form on to one of your family members or friends. We need your support and theirs. Many thanks!
The Rev'd Dr Hugh Kempster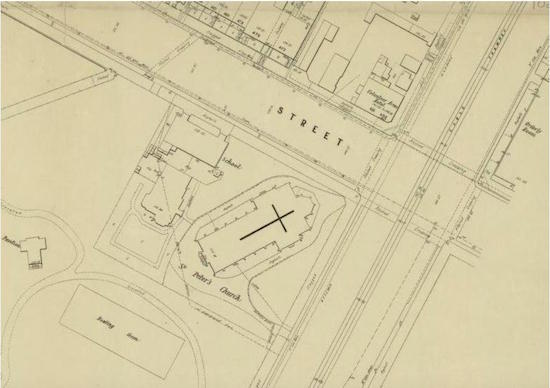 Views is a publication of
St Peter's Eastern Hill, Melbourne Australia.