Vicar's Musings for Ordinary Sunday 12
22 June, 2014
Today we are blessed to have as our guest preacher Professor Dorothy Lee, the Dean of Trinity College Theological School (TCTS), who is delivering the last in our Winter Sermon Series "Anglo-Catholicism is ...." Dorothy is no stranger to St Peter's, and last year joined us on the Catholic Evangelism panel, for our celebration of the Feast of the Assumption. This year our ties with TCTS were further strengthened, through Dorothy's initiative, and as Vicar I was appointed as the St Peter's Lecturer in Spirituality.
On Thursday we celebrated the feast of Corpus Christi with a High Mass and meal afterwards. I must say this is one of my favourite St Peter's feast-days. On Maundy Thursday we recall the Last Supper and Institution of the Eucharist — so central to who we are as Catholic Anglicans — and being during Holy Week it is a solemn occasion. Since its origins in the Middle Ages, the feast of Corpus Christi has been observed with a spirit of joy, in contrast to the sorrow of Holy Week. It is a celebration of Christ's real presence in Holy Communion; a mystery that should fill the faithful soul with thanksgiving and delight. I was reminded of this on Thursday during our procession, as rose petals poured down from the balcony. The smile on each person's face as the procession passed was contagious. It was a truly joyful moment.
The next morning I received this e-mail from a visitor to St Peter's: "I had the pleasure to attend last night's Corpus Christi mass at St Peter's. Thank you so much for having me. It was a wonderful service. The liturgy was beautiful, the procession of the sacrament profound, I really enjoyed [Fr Samuel's] sermon and personal insight into Anglo-Catholicism, and the Palestrina mass setting was superb. Worship at St Peters is of the highest, most dignified order and it is a pleasure to attend."
The Rev'd Dr Hugh Kempster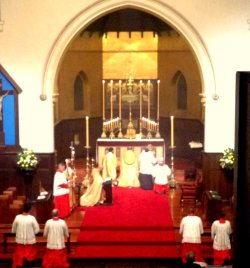 Views is a publication of
St Peter's Eastern Hill, Melbourne Australia.