Vicar's Musings for Ordinary Sunday 14
8 July, 2012
This week I received an e-mail from a dear friend and mentor in New Zealand, the Rt Rev'd Richard Randerson, former Assistant Bishop of Canberra and Goulburn, and later Assistant Bishop of Auckland. Bishop Richard had this to say about the recent ordination and installation of the 11th Bishop of Wellington:
Dear friends,
As many of you will know, the Diocese of Wellington at an electoral synod in March this year made a very unexpected choice for its new bishop. Justin Duckworth was ordained and installed as bishop of Wellington last Sunday. While media are making much of the fact that +Justin has dreadlocks, gets around in bare feet (even for his episcopal ordination in the cathedral and on the wintry streets of Wellington outside), is aged 44 and has been ordained for around 5 years, nonetheless he was elected by a large and clear majority of a synod who felt that "tweaking the dials on the old paradigm of Church just ain't going to cut it any more". +Justin himself speaks of "leaving the bricks and mortar of Egypt for a journey through the wilderness to new promise and hope. We want to leave a legacy of faith for our children, not bricks and mortar", he has said. Until now he and his wife Jenny have been leading an Urban Vision community, based on a spiritual rule, which has five communities around Wellington which seem straight out of the Acts of the Apostles' description of the early church: worship, living together, sharing, reaching out to those on the margins.
In my early twenties I went on retreat to the Franciscan Friary at Hillfield, near Cerne Abbas in Dorset. The story of St Francis and the witness of the monks there moved me deeply. Soon afterwards I was travelling in India and decided to give away all my money — that was an experience — and I used to go barefoot too from time to time in my first Auckland parish. I don't know +Justin personally, but reflecting on his ministry and what he stands for I can't help feeling a little nostalgia for that Franciscan spirit in my own life and ministry (for better or worse I am now well and truly in the habit of keeping my shoes on in public).
A question and a prayer that is constantly on my mind as your new vicar is: what is God's call for us as a parish? Where are we going? As I have said before, Pastoral Care is certainly a part of that: love one another. But that is not the whole picture. As a parish we will become narcissistic and irrelevant if all we think about is ourselves. Outreach, loving our neighbour, must go hand in hand with this. As we develop our own Mission Action Plan here at St Peter's perhaps we will draw inspiration from St Francis, and indeed our own Fr Gerald Tucker who served as a curate at St Peter's in the 1930s and went on to found the Brotherhood of St Laurence. We might even get some ideas from the new barefoot bishop over the ditch.
www.urbanvision.org.nz
The Rev'd Dr Hugh Kempster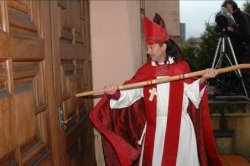 Views is a publication of
St Peter's Eastern Hill, Melbourne Australia.