Vicar's Musings for Ordinary Sunday 16
21 July, 2013
The pre-election debate over asylum seekers in Australia makes my stomach turn. There should be no question as to the Christian perspective on this issue; Jesus' parable of the Good Samaritan says it all. Those seeking asylum from the horrors of war and persecution are clearly in the gutter and we simply cannot pass by on the other side of the road. These men, women and children are our neighbours. Pope Francis recently celebrated mass on the Mediterranean island of Lampedusa, through which more than 200,000 people fleeing war and conflict have gained entry to Europe, and a staggering 17,000 have died trying. The pope was highly critical of the insensitivity of Europeans to the plight of this human suffering, and a "culture of wealth" in the Western world that has led to "the globalization of indifference." He posted on Twitter: "We pray for a heart which will embrace immigrants ... God will judge us upon how we have treated the most needy." Lawyer and human rights advocate, Julian Burnside, wrote a powerful opinion piece in The Age this week: "You've been misled on Boat People: here are the facts." Addressing the common misconceptions over "queue-jumping" and "border control" he concludes:
Some reading this will think: 'Well, they should wait their turn.' But what would you do? If you and your family faced persecution at the hands of the Taliban, would you wait in Kabul for a bullet; or hide in Indonesia for years on end waiting for another country to offer you protection? Or would you run for your life, and do whatever it took to get you and your family to safety? I know I would get to safety by hook or by crook. And if I got to a convention country, I would ask for protection. Ask our politicians what they would do if they faced the same choice? Why further punish an already vulnerable minority for their actions — when those same actions simply reflect our shared sense of humanity and our fierce instincts for survival.
Jim Cotter's version of Psalm 15 in Psalms for a Pilgrim People (1998) says it all:
Lord, who may be a guest in your house?
... Those who are steadfast and kind
who are resilient and patient and humble
who know the cost of a morsel of justice,
a glimpse of compassion in times that are savage.
Their roots are deep in the being of God,
their arms are spread wide in welcome embrace.
They are faithful, joyful and blessed,
God's sisters and brothers and friends.
The Rev'd Dr Hugh Kempster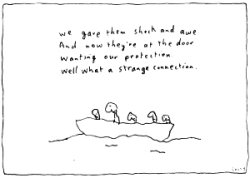 Views is a publication of
St Peter's Eastern Hill, Melbourne Australia.