Vicar's Musings for Dedication Sunday (OS 18)
5 August, 2012
This week's musings are taken from the Vicar's report to the August Vestry.
The results of the National Church Life Survey for St Peter's have just arrived on my desk; they make interesting reading. I have posted the full report on the St Peter's website for anyone who would like to read it (click here to download. Note, this is 6.9Mb, so do not download on a slow Internet connection) but in summary the returns from the 111 parishioners surveyed would suggest that we see our top three core qualities at St Peter's as: worship, service and faith. Conversely inclusion, leadership and innovation are seen as areas in which we are least strong. Our average age is 58 years. The most common leadership strength was identified as "listening deeply" and the thing that needs most attention in our parish is "growing into a larger congregation." The results of the Church Life Survey should come as no big surprise to anyone. They certainly correlate with what I have heard again and again from parishioners during my three months of intensive pastoral visiting. We need to grow as a parish!
Business as usual is clearly not an option, and I encourage vestry to consider launching a Decade of Mission and Ministry on "The Hill" at this year's AGM. Some of the strategic growth areas we will need to consider are:
Incorporation of New Members & Pastoral Care
Ministry to Families with Younger Children
Strengthening and Developing our Services to the Disadvantaged
Christian Education & Spiritual Growth
Electronic Communications & Links with the City of Melbourne
Building the Capacity of the Ministry Team, both lay and ordained
Stewardship: increasing our parish giving of time and money.
Staffing for growth is essential at this early stage, and I ask Vestry to consider budgeting for a Curate in 2013. With the right person this will give us a dynamic ordained ministry team to launch our Decade of Mission and Ministry on "The Hill". Ordained ministry, however, will only be part of the equation; we will need to build our volunteer base across all areas of mission and ministry. The success of our endeavours will depend on every member of the congregation contributing in some way, whether through the gift of money or time, or just faithfully turning up each week to worship and making the effort to befriend new members over a cuppa after church.
Over the month of August I will develop a draft strategic plan, in consultation with the wardens, staff and other key parish leaders. We will consider this in some detail at the next Vestry meeting and then start communicating the detail of it with the parish in September, which is traditionally our Stewardship month. I hope that we will then be able to adopt the plan at this year's AGM and start building momentum for the tasks ahead of us as a parish. Other parish news to report on this month:
Staffing and Office-holder Update

New Administrator — Kosta Soteriou has got off to a great start; many thanks to Fr Philip and Anne for helping out during the interim.
New Treasurer — Catherine McGovern has kindly volunteered her services. Our thoughts and prayers are with Geoff Lavender as he faces surgery.
New Warden — Stuart Hibberd has been nominated due to Eric Meadow's ill health and need to focus on finishing his PhD studies.
Lazarus Chaplain soon to be appointed — thanks to the generosity of parishioners the Foundation is now ready to appoint a part-time chaplain to work with the homeless
Lay Pastoral Assistant — Di Clarke has been appointed as volunteer pastoral assistant in the parish to work alongside Sr Avrill at St Vincent's Public Hospital and head up the parish Incorporation Ministry
Prevention of Violence Against Women (PVAW) Coordinator — Liz Prideaux has been nominated to head up this important Diocesan initiative in the parish

Open House: a huge thanks to Helen, Rhonda, Guy, Adam, David and the substantial team of volunteers they organized to host this year's Melbourne Open House. Last weekend was a runaway success with more than 1,000 people visiting "The Hill". You can't buy that sort of publicity!
Support of St Peter's Fawkner: thanks to Phil and the team for the working bee, and to everyone who came to Fr Philip's commissioning. It is good that we continue to offer our support in what ever way we can
New Members: there have been seven new members join St Peter's during July. Thanks to everyone for making them welcome. Please make sure no new folks are ever standing alone at morning tea on Sundays!
Baptisms, weddings and confirmations: already this year we've had 11 baptisms, with another booked for August (cf. 8 in 2010; and 12 in 2011). Similarly weddings are up with 7 to date and another 7 booked (cf. 9 in 2010; and 5 in 2011). In addition there are already 8 weddings booked for 2013.
The Rev'd Dr Hugh Kempster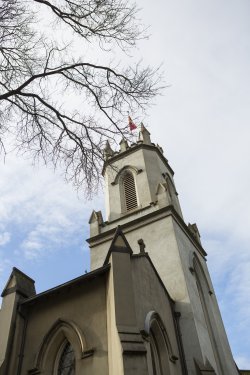 Views is a publication of
St Peter's Eastern Hill, Melbourne Australia.