Vicar's Musings for Ordinary Sunday 19
11 August, 2013
Devotion to the Blessed Virgin Mary has been a feature of Anglo-Catholic worship and piety from the early days of the Oxford Movement, drawing from rich medieval traditions and practices. At St Peter's we have an active Cell of Our Lady of Walsingham that meets on the fourth Sunday of each month, and a small group that say the Rosary together each Saturday morning after the 9am mass. The Marian feasts of the Annunciation and Assumption are an important part of our liturgical calendar, and there are well over 70 people booked in for the Assumption Mass, Dinner and Discussion next Thursday 15th August at 6.15pm. Marian devotion is flourishing on "The Hill". Above all devotion to Mary is about prayer; she herself is a model of devotion to Christ. The medieval mystic, Dame Julian of Norwich, puts it beautifully (A Revelation of Love, chapter 4):
God brought our Lady to my understanding. I saw her spiritually in her bodily likeness, a simple, humble maiden, young in years, of the stature which she had when she was conceived. Also God showed me, in part, the wisdom and truth of her soul, and in this I understood the reverent contemplation with which she beheld her God, marveling with great reverence that he was willing to be born of her who was a simple creature of his making.
Recently I was talking to one of our newer parishioners, Fiona Valentine, after Mass: "Fr Hugh, I would like to loan you one of my pieces of art." The next week, resting on a chair in the hall, sat a painting that is profoundly topical, with the current debate around asylum seekers, and at the same time powerfully evokes something of the spirit of Mary that Dame Julian knew so well. Fiona's painting has already been the focus of our Wednesday afternoon contemplative prayer group, and as we prepare for next week's Feast of the Assumption, I offer it to you for your own devotions this week. You can look at it in more detail on-line and there are also copies in the St Peter's bookshop.
The Rev'd Dr Hugh Kempster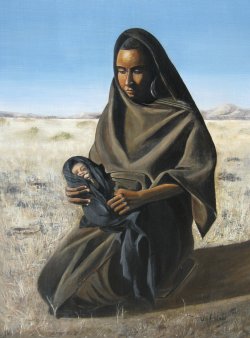 Views is a publication of
St Peter's Eastern Hill, Melbourne Australia.