Vicar's Musings for Ordinary Sunday 19
10 August, 2014
On Wednesday we celebrated the Feast of the Transfiguration with an uplifting High Mass, followed by a relaxed and most enjoyable meal. Our Musical Director, Andrew Raiskums, and Head Server, Peter Bryce, did a fantastic job of drawing together a full choir and team of servers. The Verger, David Morrell, prepared the Parish Hall so lovingly for a candlelit dinner. I have to confess to being a little disappointed that so few people came to observe the feast-day with us, but Peter summed it up beautifully afterwards when he said: "it is good for us to do this Father, how ever many or few come." He is of course spot on. In fact our Head Server's wise words were an echo of the Transfiguration gospel reading itself: Jesus took with him Peter and James and his brother John and led them up a high mountain, by themselves. And he was transfigured before them, and his face shone like the sun, and his clothes became dazzling white. Suddenly there appeared to them Moses and Elijah, talking with him. Then Peter said to Jesus, "Lord, it is good for us to be here . . .." Matthew 17:1-4a
This is the nature of our unique calling at St Peter's. As our logo proclaims, we are "the Parish Church of the City since 1847." As such our congregation is a gathered one, with parishioners coming from all over Melbourne, and even beyond (one of our regular servers lives in Albury, NSW). There are numerous occasions during the year when our pews are filled, such as St Peter's Day, Bp Bayton's Anniversary of consecration, Christmas, Easter and so on. Those times of glorious liturgy and high energy are only possible because week after week, year after year, we conduct services of the highest standard no matter how many people attend.
There were about 30 of us who gathered on Wednesday, and yes, there were more in the choir and sanctuary than in the pews. But I deeply resonate with Peter Bryce's sentiments, as well as those of the other St Peter: "Lord, it is good for us to be here." As I reflected on the gospel story of transfiguration, and pictured that moment of divine revelation on the mountaintop, my heart was uplifted and my spirit nourished. I became profoundly aware of the great cloud of witnesses who sing with us, each time we celebrate the Mass: "Holy, holy, holy, Lord God of hosts, heaven and earth are filled with your glory." There was a moment of profound connection with the brokenness of our world as Melissa Clark led us in prayer: "We especially hold before you the people of Gaza and Israel, Iraq, Syria, South Sudan, and pray for all people who are suffering and displaced due to conflict."
It is easy in winter to become disheartened, in our faith as much as any in other area of our life. Psychologists have even a name for it: SAD or "seasonal affective disorder." While not wishing to diminish the medical profession, and its cures, I am also sure that the seeds of health and flourishing also lie in our faith tradition. In the Letter to the Hebrews there is sage advice for our winter lethargy: "let us consider how to provoke one another to love and good deeds, not neglecting to meet together, as is the habit of some, but encouraging one another" (10:24-25).
The Rev'd Dr Hugh Kempster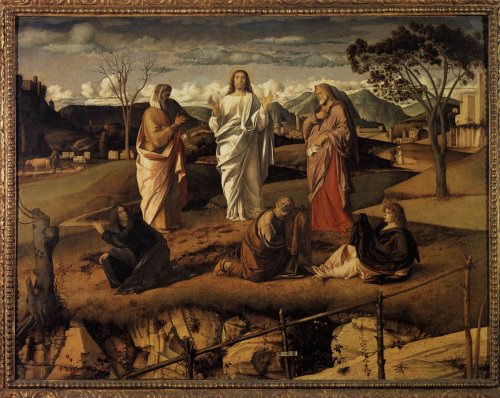 G. Bellini, "Transfiguration of Christ" (1480)
Views is a publication of
St Peter's Eastern Hill, Melbourne Australia.