Vicar's Musings for Ordinary Sunday 19
9 August, 2015
Members of the parish who were able to attend the recent Parish Mission, or who have read Bp Stephen Cottrell's books, will recall that a central element of his teaching on catholic evangelism is the "growth spiral" (see diagram). Over the next few weeks my Vicar's Musings will focus on our preliminary plans for growth as a parish. These fledgling ideas and plans will be drawn from meetings with the parish staff and various ministry committees, and in due course will form the basis of a Mission Action Plan that will be presented at the Annual Meeting in November.
This week I would like to focus briefly on the "growth" arm of the spiral. We all need to grow in our faith as Christians, whether we are clergy or laity. As Bp Stephen said to us in his opening sermon of the Parish Mission: "you can't give what you haven't got." Bp Graeme and I have been working on a "growth program" that we hope will provide resources for each member of the congregation to grow in faith. Please make every effort to attend some or all of these opportunities for growth in your faith.
CONNECTING WITH OUR CULTURE
Sundays over a light lunch, in the Hughes Room, from 12.45 to 2pm.
Sunday, 23rd August: "Truth & Trust" — Emeritus Professor David Aspin & Bishop Graeme Rutherford in conversation.
Sunday, 27th September: "Caring for refugees" — the Rev'd Dr Stephen Burns, Trinity lecturer in liturgical and practical theology.
Sunday, 25th October: "Reconciliation Action" — the Rev'd Helen Dwyer, Aboriginal Reconciliation Liaison Officer for the Diocese.
THE PILGRIM COURSE: UNIT 1 — "What do Christians believe?"
Six Sunday sessions in the Hughes Room,
over lunch, from 12.45 to 2pm.
Sundays September 6, 13, 20 and October 4, 11, 18.
The Pilgrim Course, co-written by Bp Stephen Cottrell, is a holistic course addressing both head and heart. All are welcome to come whether you've been a Christian for years or are just enquiring. It costs just $25 for the first six-week unit, which includes a booklet and a light lunch each week.
The Rev'd Dr Hugh Kempster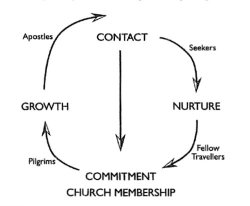 Views is a publication of
St Peter's Eastern Hill, Melbourne Australia.