Vicar's Musings for Ordinary Sunday 20
18 August, 2013
On Thursday more than 140 people gathered for our Feast of the Assumption High Mass, and most then went to the Parish Hall for a wonderful Dinner and Discussion around the theme "Evangelical Catholicism" led by Fr Scott Cowdell, Dr Muriel Porter, Mr Brad Chapman and Mthr Dorothy Lee. Thanks are due to Fr Samuel (welcome back!) and to all the team who worked so hard to make the evening such a success. This week's festivities mark the launch of a two-year Catholic Evangelism programme on "The Hill." The big event we are working towards is a visit of the Rt Rev'd Stephen Cottrell, Bishop of Chelmsford, to St Peter's Eastern Hill in the second half of 2015. Bishop Stephen is a leading Anglo-Catholic in the Church of England, and the author of numerous books, including: Sacrament, Wholeness and Evangelism: A Catholic Approach (Grove Books, 1996), Abundance of the Heart: Catholic Evangelism for All Christians (Darton, Longman & Todd, 2006), Hit the Ground Kneeling: Seeing Leadership Differently (Church House, 2009) and Christ in the Wilderness (SPCK, 2013). In preparing for Bishop Stephen's visit, we will be hosting a number of special events. Two preliminary events that may be of interest to you are below:
November 2013 — St Peter's Eastern Hill Sermon Series
The Biblical Roots of "Catholic Evangelism"
Sun. Nov. 3rd: God's First Testament Plan: From One to Many
Sun. Nov. 10th: Christ of the Gospels: a Missionary Christ
Sun. Nov. 17th: The Holy Spirit of Acts: a Missionary Spirit
Sun. Nov. 24th: The Church of the Letters: a Missionary Church
The sermon series will be delivered by the St Peter's clergy: Fr Hugh Kempster, Bp Graeme Rutherford, Fr Samuel Dow and Fr Philip Gill, at our usual Sunday services (8am BCP Mass, 9.30am Family Mass, and 11am High Mass).

November 2013 - Community of the Holy Name, Cheltenham
Quiet Day: "Hit the Ground Kneeling"
On Saturday 9th November, from 10am to 3.30pm, St Peter's will be holding a Quiet Day hosted by the Community of the Holy Name in Cheltenham. The day will be loosely based around Bishop Cottrell's book: Hit the Ground Kneeling: Seeing Leadership Differently (Church House, 2009) but with lots of space for stillness and reflection. We hope the day will be of particular benefit to those in lay and clerical leadership, in parishes, chaplaincies or agencies. All are welcome. Places are limited, so please book through the St Peter's Parish Office (ph. 9662 2391).
The Rev'd Dr Hugh Kempster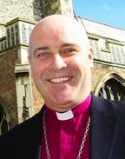 Views is a publication of
St Peter's Eastern Hill, Melbourne Australia.