Vicar's Musings for Ordinary Sunday 20
10 August, 2014
What will happen when I die? It is one of the primal existential questions we all face (or actively attempt to avoid) at one time or another. Sigmund Freud, in his Reflections on War and Death (1918) wrote: "Our unconscious ... does not believe in its own death; it acts as though it were immortal. What we call our unconscious, those deepest layers in our psyche which consist of impulses, recognizes no negative or any form of denial and resolves all contradictions, so that it does not acknowledge its own death, to which we can give only a negative content. The idea of death finds absolutely no acceptance in our impulses. This is perhaps the real secret of heroism." Freud saw death as the final, decisive moment of existence. Heroism for him was to look this finality in the face, without any recourse to any illusory belief in an afterlife.
Most adherents of the world religions, and even some secular humanists, at least leave open the possibility of a reality beyond death, but more usually have a strong sense of death as a doorway into another reality. This week the actor Robin Williams took his life after a long battle with depression and addiction. One of his films that most stayed with me was "What Dreams May Come" (1998) based on a novel by Richard Matheson. It tells the story of a family torn apart. The father and two children are tragically killed in two car accidents, and the mother then falls into deep depression and eventually takes her own life. The story is told through the eyes of the deceased father who tries desperately to console his wife from beyond the grave. When she kills herself he goes in search of her soul, which is trapped in the deep darkness of a hell-like existence, and sets out to free her. It is a beautiful story of redemption, and even salvation, in the face of unimaginable sadness. It is fiction, but the narrative is replete with theological reflection.
This week we observed the Feast of the Assumption with a beautiful High Mass at St Peter's. In this feast we inherit an important part of the early church's answer to the question of life after death. Jesus died and rose again, but what about his mother Mary? And by implication what about my loved ones and myself? There are allusions in scripture, particularly in Revelation chapter 12, to Mary's assumption into heaven but nothing explicit. From the fourth century, however, we have records of theological statements and liturgical practices, particularly in the Eastern Church. Pope Sergius I (650-701) affirmed this practice in the West, but it was not made "infallible dogma" until Pope Pius XII did so in 1950. The Assumption is not an Anglican doctrine, but it is a liturgical observance in most Anglo-Catholic churches, a practice that was affirmed by the Anglican-Roman Catholic International Commission (ARCIC) in the 2004 paper "Mary: Grace and Hope in Christ." As much as a dogma or belief, the Assumption is a mystical reality that we can best experience in worship.
The Rev'd Dr Hugh Kempster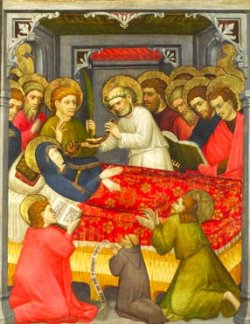 "The Dormition of the Virgin", Tyrolese (c.1420-30)
Views is a publication of
St Peter's Eastern Hill, Melbourne Australia.