Vicar's Musings for Ordinary Sunday 21
26 August, 2012
We must love them both: those whose opinions we share and those we reject.
For both have labored in the search for truth and both have helped us in the finding of it.
(St Thomas Aquinas)


When devils drive the reasonable wild
They strip the adult century so bare,
Love must be regrown from the sensual child.
(W. H. Auden)
At this week's Vestry meeting we had only two primary items on the agenda: strategic planning for growth, and a draft of the 2012-13 parish budget. The energy level was high as we looked towards the future and embarked on a discernment process seeking God's guidance. The St Peter's Mission Action Plan 2012-15 "Growing in God's Love" will be released at the AGM. We are focusing in on six main ministry areas for growth:
Worship
Incorporation & Pastoral Care
Christian Education & Spiritual Growth
Services to the Disadvantaged & Mission Outreach
Stewardship of Time and Money
Electronic Communications & Links to City of Melbourne
There was a strong feeling among the Vestry that we must staff for growth, and so we have decided to take a step of faith and aim to employ a curate in 2013. All going well this person will start in February 2013, living on site, but we will take the time to find the right person. Please pray for your Vicar and Vestry as we work towards making this goal a reality.
Following our discussions around the Mission Action Plan our new Treasurer, Catherine McGovern, gave an excellent presentation on the proposed budget for 2012-13. She has been working hard with the Finance & Investments sub-committee of Vestry to ensure that the coming year's budget is realistic and in line with the Mission Action Plan. There is more work to do this month, but Vestry will finally decide at its next meeting on the budget that will be presented to the AGM.
The timing of the AGM was another issue discussed, and feedback from a number of parishioners was received concerning the difficulty of getting out to an evening meeting during the week. It was therefore moved, and agreed unanimously, that this year's AGM be held on Sunday 25th November, the feast of Christ the King. We will carefully plan a combined worship service at 10am that day and then hold the general meeting directly after that. Following the business a meal will be provided for everyone. Our hope is that this day will be a coming together of all our congregations and an opportunity to celebrate our common life as a parish. Please mark this date in your diaries now. I know that AGMs do not usually send waves of anticipation around the parish, but my sense is that this year will be a wonderful opportunity to discern what God's Spirit is saying to our parish and to build a common vision for the future. I think we have an exciting future ahead for us as a parish
The Rev'd Dr Hugh Kempster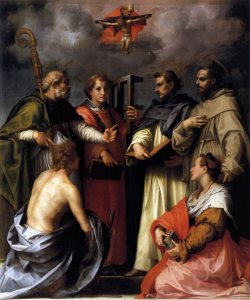 Views is a publication of
St Peter's Eastern Hill, Melbourne Australia.