Vicar's Musings for Ordinary Sunday 21
23 August, 2015
Further reflections from the Vicar on mission imperatives for St Peter's, following on from this week's Parish Council meeting.
"Jesus went about all the cities and villages, teaching in their synagogues, and proclaiming the good news of the kingdom ... when he saw the crowds, he had compassion for them, because they were harassed and helpless, like sheep without a shepherd. Then he said to his disciples, 'The harvest is plentiful, but the labourers are few; therefore ask the Lord of the harvest to send out labourers into his harvest'" (Matt. 9:35-38).
One of the highlights of the recent Parish Mission for me was the children's play "Where is the Green Sheep?" We were "sold out" two weeks ahead of time, and on the day the parish hall was filled to capacity with families, most of whom we did not know. It gave us a vision of what is possible for family ministry at St Peter's. I think we may have also totally exhausted our small family ministry team, however, who put so much time and energy into the occasion. As we plan and look to the future we will need to be patient and realistic in our expectations of one another. That being said, I have great confidence in the potential for parish growth in this area of ministry. The harvest is indeed plentiful. Our current task as a parish is to pray for and care for the labourers who presently give so generously and sacrificially of their time, and also to "ask the Lord of the harvest to send out labourers into his harvest."
Another highlight of the Mission was the launch of the Lazarus Centre coffee cart social enterprise. We now have Phase One of this mission activity well and truly underway. Our head barista, Adolf Mora, is pumping out fantastic coffees for parishioners each Sunday after Mass, and is training up Lazarus Centre participants to do the same. Phase Two of the social enterprise involves a plan to build a small plaza on the corner of Gisborne Street and Albert Street, in the vicinity of the St Peter's wayside cross, to enable street-trading on weekdays. A small committee went to see the Lord Mayor last week, to talk about ways we might make this happen, and we had a very warm and encouraging reception.
After Mass today all parishioners will be given a discussion document, outlining the Parish Council's preliminary ideas for a plaza. The document will also be circulated by e-mail, posted on the website, and mailed to those who don't have access to the internet. We are very keen to hear your feedback, so next week (Sunday 30th August) after each Mass there will be a presentation in the Parish Hall and an opportunity for you to ask questions and engage with the these development ideas.
The Rev'd Dr Hugh Kempster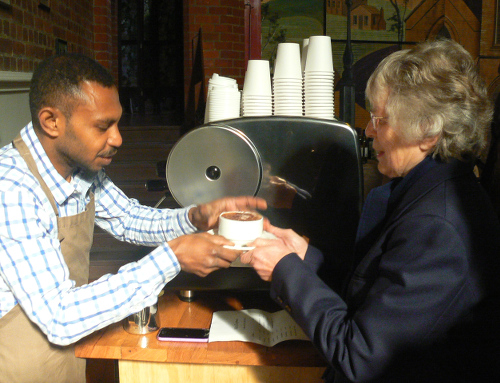 Views is a publication of
St Peter's Eastern Hill, Melbourne Australia.