Vicar's Musings for Ordinary Sunday 27
7 October, 2012
I am delighted to announce that Fr Philip Gill has been appointed to the new position of Chaplain to the Lazarus Centre at St Peter's Eastern Hill. Fr Philip is already well known to our congregations, our mission partner Anglicare, and the people who attend the breakfast programme. As a Prison Chaplain he understands well the ups and downs of life that homeless people experience. He is the ideal person to offer pastoral care and strengthen links between the church and the Lazarus Centre. In addition to the pastoral component of the position Fr Philip will be working with a Steering Committee to produce a scoping report on possible future directions for the Lazarus Centre. The members of the Steering Committee are: the Vicar, John Taaff (Vicar's Warden), Sarah Ward (Anglicare), Louise Laing (Lazarus Centre Co-ordinator) and Ree Boddé (Researcher). For the past 10 years St Peter's has been offering disadvantaged people breakfast 7 days a week and 52 weeks of the year. This is an amazing ministry that grew from a vision that Jean Henderson and other St Peter's parishioners had, but the central question in Fr Philip's report will be: could we do more? Initial conversations with Anglicare suggest that the answer is 'yes' and the Steering Committee has already started to explore possibilities. This exciting development in our mission outreach as a parish would not have been possible without the generous folks who donated to this year's St Peter's Foundation appeal; thank you! Fr Philip will be commissioned at today's 9.30am and 11am services. Please pray for him and for the project as we dream dreams and envision ways that St Peter's might broaden and build our ministry to the disadvantaged of Melbourne City.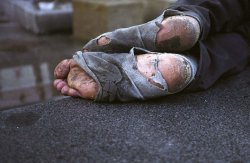 Views is a publication of
St Peter's Eastern Hill, Melbourne Australia.