Vicar's Musings for Ordinary Sunday 28
15 October, 2017
Today we welcome Bishop David Akau Kuol and his wife Elizabeth to St Peter's Eastern Hill for the 11am High Mass, followed by a Seminar in the Parish Hall at 1pm. Bishop David, is South Sudanese Australian, born in Aliap village of Beloock in the small farming town of Yolakot on the western shore of the River Nile. In 1987, as a boy, with thousands of other boys and girls, David was taken to Ethiopia by the South Sudanese authorities to be trained as a child soldier to fight in the civil war. Huge numbers of these children died at the Ethiopian training centre, of malnutrition and hunger between 1987-1990.
David survived this ordeal and in 1992 was taken to a Kenyan Refugee camp setup by the UNHCR. From there he started his theological Education at Malek Theological School and Kabare Theological College in Kenya. He became a youth leader and was commissioned by the Episcopal Church of Sudan as an evangelist to the people in the camp. David was ordained deacon in 1996, and priested one year later. His first Incumbency was a congregation of 500-600 parishioners! At this time he met and married Elizabeth Kuol, and they now have 6 children, four girls and two boys. The Church Mission Society (CMS) sponsored David to continue his theological training in Nairobi, Kenya, and in 2003 David and his family were part of the first batch of refugees given humanitarian visas to resettle in Australia, being sponsored by a Uniting Church Congregation in Adelaide. Here David was able to further his studies at the Bible College of South Australia, and was given a South Sudanese congregation to lead in the Diocese of Adelaide by then Archbishop Ian George.
In 2008 the new Diocese of Awerial was formed, in the Aliap region of South Sudan, and David was called to serve there as Assistant Bishop, later being Enthroned as Diocesan Bishop in 2015. Bishop David is now acting as chairperson of the Board of Education Commission of the Anglican Church of South Sudan, and the Secretary of the House of Bishops of the internal Province of the Eastern Bhar El Gazal.
We are blessed to have Bishop David as Presiding Bishop at High Mass today, and we look forward to hearing more about ministry in the Diocese, rebuilding a region torn by civil war for so many years. Adequate training for clergy, is one of the most pressing issues in this post-war period. There will be a retiring collection after each of the morning Masses today, which will be given in support of a Scholarships Program in the Awerial Diocese. After Mass Bishop David will speak about this and other ways we can help our Anglican sisters and brothers there.
The Rev'd Dr Hugh Kempster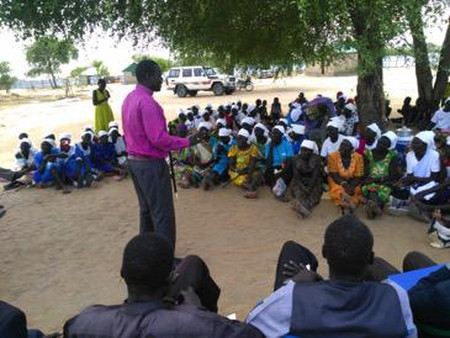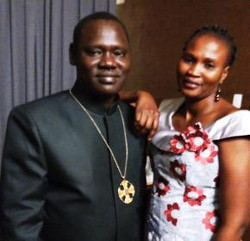 Views is a publication of
St Peter's Eastern Hill, Melbourne Australia.