Vicar's Musings for Ordinary Sunday 28
14 October, 2018
The Corner Plaza and Wayside Cross of Sacrifice works are well under way now. Other than an obligatory burst-water-pipe "Christening" of the project in the first week, all has been running very smoothly under the watchful eyes of St Peter's Warden Nick Lambard-Scott, and Trethowan Architects.
The excavation stage of the works was quite a challenge for the workmen, the removal of the top layer of soil revealing a crisscross of water pipes, waste-water pipes, gas pipes, fibre-optic cabling, older telephone cabling etc. As you can imagine in a church as old as ours, this mesh of utilities had been laid over the course of a century or so and was far from compliant with modern building regulations.
This week the concrete truck arrived, and the pathways are beginning to take shape, ahead of the laying of bluestone pavers (which will take a while as there is quite a wait for the pavers to be cut). Interestingly, this new entry to the church site that we are creating, wrapping round either side of the building, is in fact a restoration of the original pathways that we discovered during the planning stage in site drawings from 1898. From these plans it becomes clear why the Wayside Cross was placed on the corner; encouraging parishioners and others arriving at church to pause for a moment and remember those who sacrificed their lives for us in the Great War ... lest we forget.
The Rev'd Dr Hugh Kempster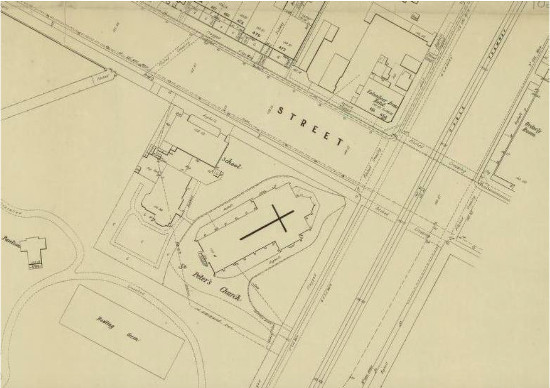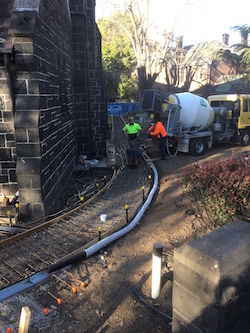 Views is a publication of
St Peter's Eastern Hill, Melbourne Australia.