Vicar's Musings for Ordinary Sunday 29
18 October, 2015
Last Sunday afternoon more than 200 people gathered at St Peter's for prayers. We then crossed Albert Street and were welcomed into the Synagogue, where our Bishop danced alongside the Rabbi and the Imam. Finally we walked to the Mosque in North Carlton and reflected together on the peaceful heart of Islam, before sharing in a communal feast of Lamingtons! The Friendship Walk was organised by the Jewish Christian Muslim Association (JCMA) chaired by Bp Philip Huggins, who is soon to pass the role on to Rabbi Ralph Genende. In a world where the news is dominated by mosque protests, terrorist attacks and displaced peoples, it was such a joy to laugh and sing and pray together in peace. For any who are interested there is a delightful You Tube video of the event. It was produced by the ABC for an Indonesian audience, but apart from the sub-titles is very accessible for English speakers: Go to.....
The Melbourne Synod has been meeting this week. Your Synod Reps Adam Blackmore, Nick Browne and Lisa Savage have been dutifully attending proceedings and will report to the parish in due course. One of the major items for debate has been the Regions of the Diocese (Repeal) Bill 2015 and the proposed restructuring of the Diocese. The plan is to replace the current three Regions: Northern and Western, Southern, and Eastern, with three reshaped "Episcopate Areas." The Archbishop is encouraging us to consider naming these Areas using the local Woi Wurrung language: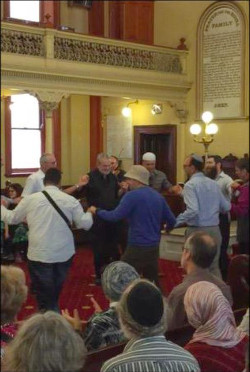 Views is a publication of
St Peter's Eastern Hill, Melbourne Australia.