Vicar's Musings for Ordinary Sunday 31
4 November, 2018
"What on earth is that in the Vicarage garden?" parishioners and visitors to St Peter's may well be asking. Well, on my day off this week, my wife Ree and I had a fit of inspiration (madness). We built a pop-up labyrinth out of a pile of spare bricks that had been sitting in the back garden for weeks. The word "labyrinth" may bring to mind the Greek myth of Theseus and the Minotaur, or in more recent times Jim Henson's fantasy film starring David Bowie. The Vicarage labyrinth, however, is based on a medieval design from Chartres Cathedral in France and is in essence a contemplative prayer-walk.
In the thirteenth century, pilgrimage to Jerusalem and the Holy Land required an army to fend off the Saracens. So places like the Cathedral of Notre Dame at Chartres, mostly constructed between 1194 and 1220, became the new centres of pilgrimage across Europe. Chaucer's Canterbury Tales, although written two centuries later and describing pilgrims journeying towards Canterbury Cathedral, gives us a glimpse into this medieval phenomenon. On arrival at Chartres Cathedral the pilgrims would have made their way to the labyrinth, set in marble in the nave, and prayerfully follow the one path to the centre (on their knees) before turning around and commencing their return into everyday life.
From Sunday 2nd December, at 1pm after the High Mass, there will be an Advent course on "Walking the Labyrinth." I do hope you can join me in learning more about this ancient prayer method, and together we will walk the Vicarage pop-up labyrinth.
The Rev'd Dr Hugh Kempster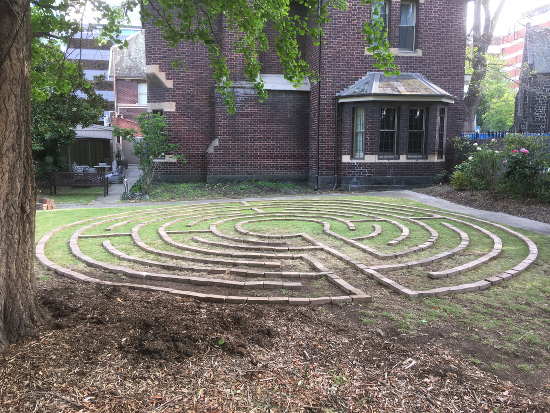 Views is a publication of
St Peter's Eastern Hill, Melbourne Australia.