Vicar's Musings for Ordinary Sunday 33
18 November, 2012
These are difficult times, and I must say that as a clergy person it all feels very close to the bone. As I travel around Melbourne on my pastoral duties, wearing my collar, I have to be careful not to become paranoid. Did that person mutter "pedophile" under his breath as I walked past? The morning papers this week have been filled with articles about the proposed Royal Commission, the debate rages all day on talk-back radio, and then the evening news and numerous documentaries push home the point. Although I am not a perpetrator I somehow feel implicated. Perhaps St Paul knew something of this when he wrote: "For just as the body is one and has many members, and all the members of the body, though many, are one body, so it is with Christ . . .. If one member suffers, all suffer together with it" 1 Corinthians 12: 12, 26. Although vilified by the media for it, I can relate to Cardinal George Pell's statements published in The Age this week: "We are not interested in denying the extent of misdoing in the Catholic Church. We object to it being exaggerated." Churches are not bad places; on the contrary there are a multitude of good things that happen in and through them. And yet the shameful actions of a few are inflicting such damage on the institution as a whole. Are the media to blame? Or is it down to poor ecclesiastical leadership and systemic failure? I guess that is the task of the Royal Commission to discern, but in the midst of the heated political debate it is the victims of such abuse who must surely be foremost in our thoughts and prayers. The present trials of a besieged church hierarchy pale into insignificance alongside the sufferings that so many have had to bear for a life-time.
When I saw Prime Minister Julia Gillard on television announcing there would be a Royal Commission into child abuse in churches and other institutions I was overwhelmed. I wept uncontrollably. I became breathless. I walked the floor struggling to breathe, trying to comprehend what I had heard. It was later I realised it was about time the truth was revealed — perhaps it was time for hope and happiness, not sadness. My sister and I lived in the Church of England North Coast Children's Home in Lismore for more than 22 years — from 1949 to 1964. I was there for 14 years, my sister eight. Most of those years were full of hatred, bloody brutal flogging, bashing, starvation and sexual abuse. It was a home of hell and fury. In the time I was there more than 200 innocent children were verbally, physically and sexually assaulted. Fear ruled our lives. Children were abused, many savagely beaten by the Matron, staff and Anglican clergy using belts, electric cords, pony whips and small flexible branches which at times we were ordered to fetch from the back yard . . .. One beady-eyed Anglican clergyman would flog the children with a thick leather belt from around his long black flowing cassock. At times, at the height of his anger, he would use the buckle. "You are all bad," he would yell at the children. "You will all go to hell."
(Click for the full article in The Punch)
There is a work of communal repentance to be done in the churches at the present time. All of us should take these thoughts and feelings into today's mass: "Merciful God, our maker and our judge, we have sinned against you . . .."
The Rev'd Dr Hugh Kempster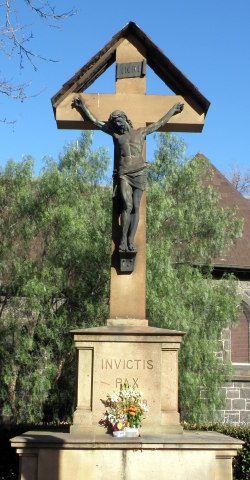 Views is a publication of
St Peter's Eastern Hill, Melbourne Australia.