Vicar's Musings for Pentecost
20 May, 2018
Today, on the Day of Pentecost, we mark the dramatic outpouring of the Holy Spirit on the grieving disciples of Jesus. A fearful, fragile group of women and men were transformed in the most profound way into the Body of Christ. Not only do we mark and celebrate the historic reality; we invite afresh this mysterious expression of the Divine into our own lives and into the ministry of the church.
It feels very fitting on this day to be in the position to announce a very significant development in our parish life and mission. This past Thursday 17 May the Diocesan Building Committee gave final approval for the development of our Corner Plaza and restoration of the Wayside Cross of Sacrifice. It has taken three years to get to this point, and the original idea was floated in the parish more than 15 years ago! We now have the approval of Heritage Victoria, Melbourne City Council, the St Peter's Foundation, the Parish Council and the Diocese. Although not yet fully funded, the Foundation fundraising committee has raised a significant proportion of the cost already, and we are confident that between the June 2018 Annual Appeal and a few other scheduled fundraising opportunities, our target will be reached. Our architects are therefore now drawing up the contract for our preferred tenderer and the Diocese to sign in the coming week or two. Completion of the project will be ahead of 11th November 2018, the Centenary of the end of the First World War; and around that time there will be a grand opening of the new Plaza. This day will also be the formal launch of day-trading for our long-awaited coffee cart social enterprise.
My thanks to all the team who have worked so hard on this project, from its inception, through the lengthy planning process, and now as we plan for the grand opening of the Plaza and the launch of our "Heaven" coffee cart.
The Rev'd Dr Hugh Kempster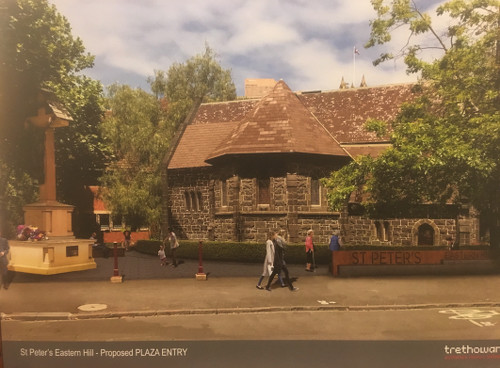 Views is a publication of
St Peter's Eastern Hill, Melbourne Australia.