Vicar's Musings for St Peter's Day
29 June, 2014
In February 2015 the Vicar and Vestry will be launching a "Year of Mission" at St Peter's Eastern Hill. The jewel in the crown will be a week-long Parish Mission, conducted by the Rt Rev'd Stephen Cottrell, from Sunday 19th to Sunday 26th July. Bishop Stephen is co-author of the "Emmaus" and "Pilgrim" courses, as well as author of books on a wide range of topics from the Arts to Prayer, and from Leadership to Catholic Evangelism. He is Bishop of Chelmsford, the second largest Diocese in the Church of England, and has previously served as Bishop of Reading, and as a Missioner with Springboard, an initiative of the Archbishops of Canterbury and York.
Although an exciting focus for the year, we will not be leaving it all up to Bishop Stephen. Mission, like liturgy, is a work of the people: all the people, not just bishops, priests and deacons. Jesus did not choose ready-made, outstanding leaders. He chose powerless women, ordinary fishermen and others who held no great standing in the world. St Peter and the others he had called were disheartened and afraid after his execution; the task was too big and too dangerous, and many of them went back to their day-jobs. But then in the closing chapters of John's gospel, for example, we hear of a series of re-conversions, as these women and men are called back into ministry and mission (John 20-21). It was not easy, and there were very real threats. We catch a glimpse of this in a painting by Jan Styka (1858-1928) entitled "Saint Peter preaching the Gospel in the Catacombs". It is this courageous work of the early church that inspired the writings and actions of the early Church Fathers, and in turn the men and women of the Oxford Movement, as they sought to breathe fresh life into the church of their day.
St Peter and the others who gathered in the catacombs had no idea what the church of the future would look like. Dr E. B. Pusey and Mother Marian R. Hughes similarly could not have envisaged the impact of their work of reform on a little church — once known as St Peter's in the Bush — founded on Eastern Hill in the colonial city of Melbourne. What shape our Year of Mission will take, other than Bishop Cottrell's visit, I don't know. But I do know that God is at work among us. And I do know that the same Spirit of Jesus that called our forebears in the Catacombs, in the slums of London, and to the Streets and Lanes of nineteenth-century Melbourne, is calling you and me into Mission today.
The Rev'd Dr Hugh Kempster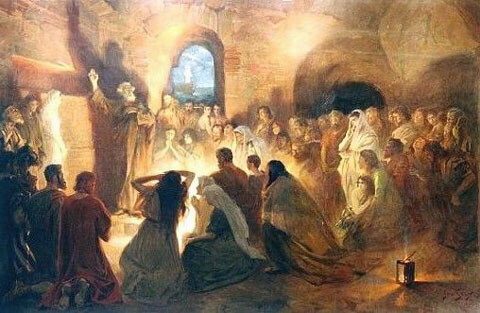 Views is a publication of
St Peter's Eastern Hill, Melbourne Australia.