Vicar's Musings for Sunday in the Octave of St Peter
1 July, 2018
We are blessed to have Bishop Alison Taylor with us today, as Presiding Bishop and Preacher, for our Sunday Patronal Festival celebrations. Bishop Alison was Vicar of St John's Camberwell, and Archdeacon of Kew, prior to being consecrated Bishop of the Southern Region in the Diocese of Brisbane. At the end of last year Bishop Alison returned to Melbourne to take up doctoral studies with the University of Divinity. On leaving the Diocese of Brisbane Bishop Alison wrote: "I was the first woman to be appointed as a bishop in Queensland, but I am confident that I will not be the last ....
Has it been more difficult for me as a woman than it is for a male bishop? It is difficult for me to say. I know that it is not easy to be either a male or a female bishop and that it requires very hard work, and a great deal of prayer .... We are in challenging times at present in the Church, but also very exciting ones as we contend with many different religious 'offerings' in the marketplace of modern society. There is no magic bullet or formula that will guarantee a fruitful way forward for each parish: rather, the people of each parish can be confident that God will show them what he is inviting them specifically to do and more importantly to be in the name of Jesus Christ." We have fond memories here at St Peter's of Bishop Alison's last visit to The Hill, for Candlemas in 2015, when she helped our own parish in embracing ordained women's ministry. Thank you Bishop Alison for graciously joining us again today for our 2018 Patronal Festival celebrations.
Please note that this coming Friday 6th July, at 7pm, we will be blessed with another visit from Bishop Rob Gillion who was our Presiding Bishop and Preacher at last year's Patronal Festival. Bishop Rob and Janine are about to return to the UK after serving in the Diocese of the Riverina, but they have kindly agreed to pay us one more visit at The Hill before they go. This will be a rather special visit; in fact it will be a final Australian performance of "The Visit"! It is a hilarious and poignant one-man play based on a short story by British author Adrian Plass. Book your seat now (www.trybooking. com/VNYQ) or just let us know you are coming through the Parish Office, then turn up and get your tickets at the door; and do bring along all your family and friends for mulled wine, Christmas mince pies, and lots of fun!
The Rev'd Dr Hugh Kempster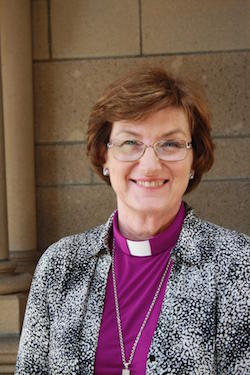 Views is a publication of
St Peter's Eastern Hill, Melbourne Australia.