Vicar's Musings for Trinity Sunday
31 May, 2015
Today we welcome the Rt Rev'd Richard and Mrs Jackie Randerson to St Peter's Eastern Hill. +Richard was consecrated bishop in Australia, serving as Assistant Bishop of Canberra & Goulburn from 1994 to 2000. It is noteworthy that at the conclusion of +Richard's episcopal ministry in Canberra, Brendan Smyth, the ACT Minister for Urban Services, made a Speech of Commendation in the Legislative Assembly acknowledging his contribution to the State.
On returning to New Zealand, as well as serving in the Diocese of Auckland as Dean of Holy Trinity Cathedral and Assistant Bishop, +Richard was actively involved in the development of government policy. He was a member of the Royal Commission on Genetic Modification, from 2000-01, and in 2007 was among a group of church leaders who supported the repeal of a section of the Crimes Act that allowed New Zealand parents and guardians to use force against children in certain circumstances. After retirement from the Auckland Diocese, he served as Deputy Chair on New Zealand's Advisory Committee on Assisted Reproductive Technology.
+Richard has written two publications about Christianity and market-based economic ideology: Christian Ethics and the New Zealand Economy (1987) and Hearts and Minds: a Place for People in a Market Economy (1992). A Word in Season: Reflections on Spirituality, Faith and Ethics was published in 2008, and today we are honoured to host a launch of +Richard's fourth book Slipping the Moorings: A Memoir Weaving Faith with Justice, Ethics and Community (2015) that will take place in the Parish Hall after High Mass.
Choosing the path of public theology has not been without controversy for +Richard, who was labelled "the agnostic bishop" in the NZ media, for his theological reflections on faith and the unknowability of God. His openness as a bishop to raise questions of human sexuality, in the early days of the gay marriage debate in New Zealand, also aroused the ire of less liberal Christians. In Slipping the Moorings he writes: "a silent church is a church that has become preoccupied with its own life and has lost sight of its mission to be a channel of compassion and a voice for justice. Both church and society are poorer for that. In speaking and acting I have always sought to be well informed on matters of faith as well as on topical issues. I also seek to consult with others before forming a viewpoint. Having done that I have taken a stand and prepared myself for whatever responses might come." (cited from Carol O'Conner's book review).
+Richard and Jackie have three children, including the playwright and director Jo Randerson. Tony Randerson, +Richard's brother, served as the Chief High Court Judge of New Zealand from 2004-10. It is an honour to have the Randersons with us today at The Hill, as we together celebrate the Feast of Holy Trinity.
The Rev'd Dr Hugh Kempster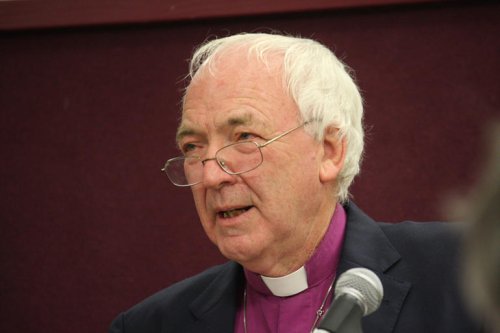 Views is a publication of
St Peter's Eastern Hill, Melbourne Australia.