Vicar's Report
Annual General Meeting
Sunday, November 25, 2012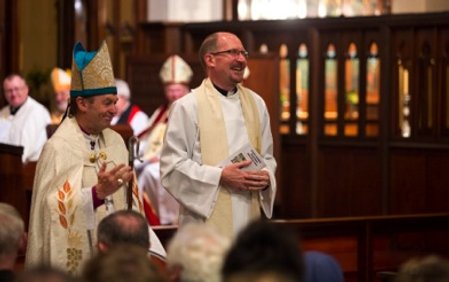 The evening of Thursday 19th April 2012 was a wonderful occasion as we began our faith journey together. Some compared it to a wedding and certainly it was a blessed celebration of hope and future possibilities. My thanks, to the many parishioners who have made Ree, Hannah and myself so welcome in the seven months since then. "How's the honeymoon going?" my colleagues ask from time to time. Well, to be honest, it was fairly short, and for good reason, an eighteen-month interregnum is a big ask for any parish. I have great respect for Bishop Graeme Rutherford, the Wardens at the time — John Taaf, Helen Drummond and Rachel Elyard — who had some hard decisions to make, and also to so many others who gave of themselves unstintingly during that extended period.
The main focus of my first three months in the parish was pastoral. I visited and met with as many people as I could, in particular those in parish leadership and also those who were feeling disaffected. My parish leadership style is relational, pastoral and democratic. This does not suit everyone and some people I met with were clearly hoping that I would act more decisively and hastily. Some of the parish leaders were weary and took the opportunity of my arriving to hand their role on to others. Over my first six months we had a change of Administrator, Treasurer, and Warden. Although this was stressful at the time, my thanks are due to Warren Collins, Geoff Lavender, and Eric Meadows for the graceful way they handed their jobs on to others. I am delighted with the new team of those who have stepped forward to take up these roles: Kosta Soteriou, Catherine McGovern, and Stuart Hibberd. Fr Tat Hien Lie retired a few weeks before I arrived after years in the parish; the attendance of the Archbishop at his farewell service speaks volumes about the efficacy of his ministry here.
One of the policy directions Vestry has decided on for the 2012-13 year is "Staffing for Growth." This will put some pressure on the parish finances, but I am sure that with careful management and the generosity of parishioners we will be successful. I am most grateful to Bishop Graeme Rutherford for accepting my invitation to stay at St Peter's and head up our Adult Christian Education programme. Growth in our social services and outreach is also a high priority for the parish, and thanks to a very successful Foundation Appeal this year we were able to appoint Fr Philip Gill as Chaplain to the Lazarus Centre. We also look forward to the arrival of the Assistant Curate, Fr Samuel Dow, in February 2013 and the energy and skills he will bring to the parish in the ministry areas of Families with Younger Children and Youth. Mention must also be made of those who ensure that our Sunday morning worship teams run so smoothly: Andrew Raiskums, Director of Music, Sue Wuttke, Music Administrator, Rhys Arvidson, Organist, Peter Bryce, Head Server, Adam Blackmore, Sacristan, Rhonda Mach & Cheryl Duff, morning teas. Fr Tom Brown, Fr Noel Cockings, Fr Don Edgar, and Fr Grant Edgcumbe undertake a quiet, but very significant ministry in the parish at our smaller services, our thanks are due to them also.
Following my first three months of visiting and listening, I worked with Vestry in developing the Mission Action Plan 2012-15: "Growing in God's Love". We identified six key objectives towards achieving parish growth:
To grow the worship services, spiritually and numerically
To better incorporate new members and strengthen parish pastoral care
To strengthen and develop Christian Education and Spiritual growth
To broaden and build parish services to the disadvantaged
To grow parish giving and the stewardship of time and money
To develop electronic communications and strengthen links to the City
Based around these objectives a Parish Survey was then conducted to further solicit the views of parishioners. Thanks to everyone who took the time to fill this in; your feedback has been invaluable in the strategic planning process. The Mission Action Plan can be downloaded here. (Note that this is a large file of 4.9 MB and should not be downloaded on a slow internet connection).

Through God's grace and the hard work of the leadership team we are seeing some preliminary signs of growth. There is a modest growth in attendance on Sundays, especially at the 9.30am service through our children and baptism ministries. Our wedding bookings are also up, with seven couples getting married this November alone (four in one weekend). New initiatives over the past few months include: the initiation of a Ministry Partnership with the parish of Fawkner and its new priest-in-charge Fr Philip Bewley; the Klingner Scholarship, which the Wardens and I will launch early next year, aimed at those training for Holy Orders; the Sunday welcoming and incorporation ministry that Di Clarke and her team have recently started; a renewal of our ministry to the neighbouring hospitals led by Sr Avrill; Liz Prideaux's appointment as Prevention of Violence Against Women coordinator; the "Flourishing of Mysticism" lecture series which attracted a good crowd of both parishioners and visitors.

Lastly, we give thanks for the lives of parishioners who have died in the past year: John Perugia, Jack Baldwin and Marjorie Churton, and Owen Richards. Light eternal grant unto them O Lord. And let light perpetual shine upon them.

Fr Hugh Kempster
Vicar
Views is a
publication of
St Peter's Eastern Hill, Melbourne Australia.