Cultivating a Spirit-orientation
Ordinary Sunday 2: 18th January, 2015
Rev'd Dr Hugh Kempster, Vicar of St Peter's, Eastern Hill
1 Sam. 3:3-10, 19; 1 Cor. 6:13-15, 17-20; Jn 1:35-42
A guy is on a road trip in the US when a policeman pulls him over. He rolls down his window and says, "Is there a problem, Officer?" "No problem at all sir," the policeman replies, "I just observed your safe driving and am pleased to award you a $500 Safe Driver Award. Congratulations. What do you think you're going to do with the money?" The driver comes back, quick as a flash, "Great, I can go and get my drivers' license." The lady sitting in the passenger seat leans over to address the policeman, "Oh, don't worry officer - he's always a smart-Alec when he's drunk." The guy in the back seat pipes up, "I told you guys we wouldn't get far in a stolen car!" At that moment, there is a knocking from the trunk and a muffled voice says, "Are we over the border yet?"
Who is in the driving seat of your car? All may seem well on the outside, but who or what is really driving you? Freud might point to our past, the id we were born with, or the ego formed in childhood. Perhaps it is money that is the real driving force, if we are honest, or power and influence over others. Or is it pleasure, a hedonistic drive; or comfort and security for our selves or our immediate family at all cost? As cognisant adults we ultimately have a choice as to who we put in the driver's seat. This applies in our personal lives, but also sociologically and politically. We can profoundly shape the organisations and groups we belong to, our church, our workplace, our family and our local community. It is an onerous responsibility, if we stop to think about it, with very real and painful consequences if we get it wrong. The current spotlight on sexual abuse in the church is a constant reminder of that. So are the lost souls that have been grabbing the world headlines over recent weeks, those who confuse religion with terrorism and violent coercion.
It may sound simplistic, but it is true, God is the only trustworthy driver of our car. As Paul writes in today's epistle: "Do you not know that your bodies are members of Christ? ... anyone united to the Lord becomes one spirit with him." Our body is a "temple of the Holy Spirit" within us. We are made to be spiritual, and if we neglect that primal drive within ourselves, if we choose another driver, we are opposing our very nature as human beings. Our job as Christians, our job as a church, is to cultivate a spirit-oriented culture personally and within the secular world we live in. Our job is to intentionally invite God into the driving seat.
The story of Hannah, Samuel and Eli still speaks powerfully to our day and to the current task we have as Christians. We read at the start of chapter 3 that much like our society "the word of the Lord was rare in those days" and that "visions were not widespread." Hannah longed for a child, and was remarkably persistent and loyal in prayer. She was fully aware that God was in the driving seat of her life, and finally she was granted a child. But as she had promised, when Samuel was weaned she gave him as a thank offering to God, doing the almost unimaginable and leaving him in the care of the temple priests.
Then one night in the temple this miracle child, the boy Samuel, hears a voice calling his name: "Samuel! Samuel!" He thinks it was the priest Eli, and goes to him: "Here I am, for you called me." Eli is half asleep: "No son, I didn't call you. Go back to bed." This happens three times, and finally Eli gets it. It is God speaking to Samuel. "Go, lie down," he instructs Samuel, "and if he calls you again, just say, 'Speak, Lord, for your servant is listening.'" So Samuel does this, the young boy has his first lesson of putting God in the driving seat, and God does indeed speak: "See, I am about to do something in Israel that will make both ears of anyone who hears it tingle." God entrusts the boy Samuel with a harsh, but ultimately purging and healing message for the house of Eli: they are seriously on the wrong path, and need to put things right.
I think we are seriously on the wrong path today, and we too desperately need to put things right. Visions are rare. We are not good at being open to God. We have very low expectations of the Spirit. If anyone does talk about a dream or a vision or a word from God, they are ignored and told to go back to bed, or perhaps more likely judged to be away with the fairies, or psychologically whacky. Even, dare I say it, in the church! But that is not how we will cultivate a spirit-orientation. We need to take a leaf from Eli's book: "Speak, Lord, for your servant is listening." We need to expect that our ears will tingle from time to time. Each week our readers say: "Hear the word of the Lord" and we respond "Thanks be to God." Do we believe this? Are we really listening for this word? Is our spirit truly open to discerning the Spirit of God?
Our church history, as well as our scripture, is full of vision and deeply spirit-oriented. In the third century Tertullian wrote (Inge, p. 16): "The majority, almost, of [people] learn God from visions." These religious experiences are real, and central to faith. Evelyn Underhill notes (Underhill, p. 267): "St Margaret Mary Alacoque's vision of the Sacred Heart ... the beautiful reveries of Suso, the divine visitations experienced by Francis, Catherine, Teresa and countless other saints, have been degraded in the course of their supposed elevation to the sphere called 'supernatural' — a process as fatal to their truth and beauty as the stuffing of birds." William James, a scientist known as the father of American psychology, after studying mystical experience for years described it as "the mother sea and fountain head of all religions" noting that (James, p. 428):
Mystical states indeed wield no authority due to them being mystical states. But the higher ones among them point in directions to which the religious sentiments even of non-mystical [people] incline. They tell of the supremacy of the ideal, of vastness, of union, of safety, and of rest. They offer us hypotheses, hypotheses which we may voluntarily ignore, but which as thinkers we cannot possibly upset. The ? optimism to which they would persuade us may, interpreted in one way or another, be after all the truest of insights into the meaning of this life.
So, I do encourage you to ensure that God is in the driving seat of your life. Recommit yourself to following Christ, and to actively developing a Spirit-orientation both personally and in the world around you. I can't tell you how to do that. You will need to listen to the Spirit and respond to what you hear. But I do have some suggestions: come along to our Wednesday afternoon contemplative prayer group; book your place on the Parish Quiet Day; come along to one of the Lenten study groups this year; attend daily Mass; commit yourself to buying a Prayer Book and saying Morning and Evening Prayer each day throughout Lent. In whatever way you feel moved, let us together raise our expectations that our ears will tingle, that God's Spirit will indeed breath through our lives and the lives of those we meet each day: be they friend, stranger, or even enemy. And like the first disciples in today's gospel, so beautifully depicted by the Flemish painter Dieric Bouts, may we make time in the busyness of life to stop, and kneel, and Ecce agnus Dei — "Behold the Lamb of God."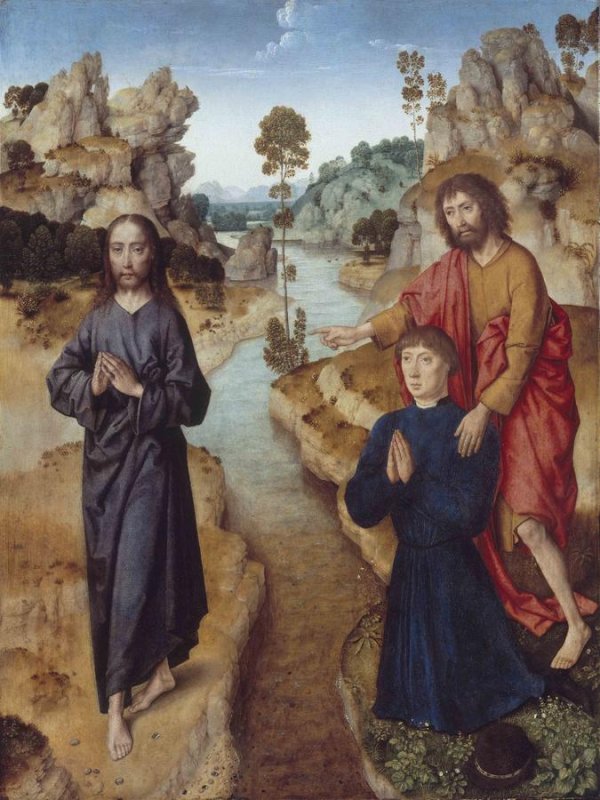 Dieric Bouts, "Ecce agnus Dei" (c. 1462)
Views is a
publication of
St Peter's Eastern Hill, Melbourne Australia.