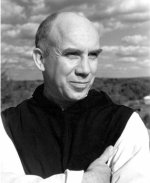 Towards the end of his journey, Thomas Merton's life-time process and pilgrimage open into an evocative and poetic icon for a post-monastic, post-theistic mysticism. Robert Whalley will share some bright snapshots from the lifetime of an occasionally enlightened man with no place left to go, as "the pathway dies and the journey has begun".
Stewart Sharlow will focus on Merton's Journey with Sufism, through which he learned even more — what it means to die to self and to step beyond all forms.
Date
Thursday 21 May, 2015
Time
7.30 – 9.30 pm
Venue
St Peter's Hall, Eastern Hill
Cost
$15 (concession: $12)
Speakers
Dr Stewart Sharlow,
received his PhD from the University of Louvain in Belgium after spending five years as a Visiting Research Fellow at St Edmund's House, the University of Cambridge in the UK. After meeting his future wife in Cambridge, he married and migrated to Australia in 1970. He has been a follower of Thomas Merton since he was a young man in the 1960s in the United States. He is currently Head of the Australian Thomas Merton Society and National Co-ordinator of the Thomas Merton Bridges to Contemplative Living Programme in Australia. He also serves as Executive Officer of the Arnold Janssen Spirituality Centre in Boronia, Victoria.

Fr Robert Whalley
spent over 20 years working as a lay minister in University Chaplaincy in Northern California as well as in Melbourne. He was the Episcopal Chaplain at San Francisco State University, a Resident Minister and adjunct tutor at the University of San Francisco, a member of staff at the faculty of the Episcopal School for Deacons, as well as the Chaplain to the student body at the Church Divinity School of the Pacific in Berkeley, where he had graduated with a Master of Divinity degree in 1989. He moved to Melbourne and St Peter's Eastern Hill in 2001 and founded 'The Merton Centre' (a centre for lay formation and education). He worked in Tertiary Chaplaincy at La Trobe and RMIT Universities, and taught both at RMIT and the Theological School, Trinity College, The University of Melbourne. In 2009 he was deaconed and priested in the Diocese of Wangaratta, where he worked as Chaplain to Bishop John Parkes and currently serves as the Diocesan Education Officer.

Authorized by the Vicar (vicar@stpeters.org.au)
and the Institute for Spiritual Studies
Maintained by the Editor (editor@stpeters.org.au)
© 2015 The Institute for Spiritual Studies