A Message from the Chair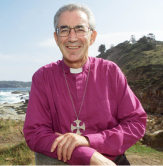 In July this year, St Peter's will welcome the Bishop of Chelmsford, UK, for a week of 'catholic evangelism', worship and nurture. Bishop Stephen Cottrell is not only someone who has theorized and written about evangelism, he has actively engaged in it. For many Anglican Catholics, there is a cringe factor involved in the mere mention of that 'e' word! But there is no need to cringe. Evangelism is not only the prerogative of those who call themselves 'evangelical'. Sharing the 'good-news' ought to be the joyful responsibility of all of Jesus' disciples, regardless of party allegiance or denominational adherence. Bishop Stephen sees a close connection between public worship, personal spirituality and evangelism. In fact, he considers that the mass is misunderstood unless there is a missiological dimension to it. The very word mass is related to the Latin phrase: ita missa est, which could be translated 'get out and start sharing the good-news'!
We look forward to being stirred into prayer and action by the visit of Bishop Stephen, not only for a week in July but in the months leading up to that date and the months that follow.
Bishop Graeme Rutherford
Chairman of the Institute for Spiritual Studies



Program for 2015
Click on the name or title for further details about any event.


Saturday 21st Februruary, at St James Anglican Church, Point Lonsdale


Thursday 19th March, 7.30–9.30 pm


Thursday 23rd April, 7.30–9.30 pm


Thursday 21st May, 7.30–9.30 pm


Sunday 24th May, 7.15–8.00 pm


Thursday 25th June, 7.30 pm–9.30 pm


Sunday 19th July to Friday 24th July


Wednesday 26th August, 7.30–9.30 pm


Thursday 24th September, 7.30–9.30 pm


Thursday 22nd October, 7.30 pm–9.30 pm


Saturday 21st November, 9.30 am–12.30 pm



Authorized by the Vicar (vicar@stpeters.org.au)
and the Institute for Spiritual Studies
Maintained by the Editor (editor@stpeters.org.au)
© 2015 The Institute for Spiritual Studies