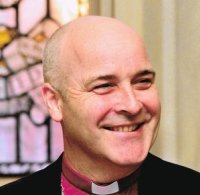 Bishop Stephen has written widely on 'Catholic Evangelism', spirituality and discipleship. The Bishop's passions for ministry have always involved evangelism, teaching and commending the Christian faith. He was part of a group that wrote and developed the Emmaus Programme of evangelism, nurture and discipleship. Watch out for further publicity on the week's program which will include an evening of special interest to all who are seeking to deepen their faith journey.
Dates
Sunday 19 July to Friday 24 July, 2015
Venue
St Peter's Church, Eastern Hill
Cost
$15 (concession: $12)
Speaker
The Rt Rev'd Stephen Cottrell
Bishop Stephen is Bishop of Chelmsford, UK, and author of the book From the Abundance of the Heart, an exploration of Catholic Evangelism for all Christians.

Authorized by the Vicar (vicar@stpeters.org.au)
and the Institute for Spiritual Studies
Maintained by the Editor (editor@stpeters.org.au)
© 2015 The Institute for Spiritual Studies