A Message from the Chair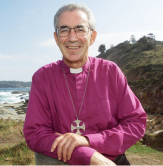 'Spirituality' is a deliciously vague term thrown around in our culture meaning different things to different people. Unlike some contemporary forms of spirituality, Christian spirituality is not primarily a system of self-improvement. Rather, it is first and foremost a means of sustaining and deepening a person's relationship with the risen Lord Jesus, whereby they are enabled to say with St Paul: 'I live, now not I, but Christ lives in me' (Galatians 2:20).
Such a life is always in danger of being reduced to superficial devotionalism. But it is never an easy option. There is always plenty of scope for backsliding. As Fr Michael Casey fromTarrawarra Abbey warns,' we do not go to God in a single leap' and then realistically goes on to point out that, 'the sign of God's active presence in the soul is an unpredictable melange of positive and negative experience. Every human life is marked by times of suffering in which only endurance is possible. The surest indication of responsiveness to grace is an uncomplaining serenity in the face of such disempowering reversals. Real love is prepared to batten down the hatches and weather the storms, not regarding the present pain as typical, but reframing it within the context of a lifetime's experience.'
Christian spirituality involves discipleship, and discipleship is about discipline. If we are not disciplined in reading the Bible, receiving the Sacraments and sustaining private prayer, our love for God is likely to become dulled over time. I hope and pray that the Institute's program for 2016 will further a genuine Christ-centred discipleship that weans us away from sentimental, feel-good devotion and helps us to keep stretching out beyond our comfort zones to a more whole-hearted love for God.
Bishop Graeme Rutherford
Chairman of the Institute for Spiritual Studies



Program for 2016
Click on the name or title for further details about any event.


Saturday 27th February, at St James Anglican Church, Point Lonsdale


Thursday 10th March, 7.30–9.30 pm


Thursday 21st April, 7.30–9.30 pm


Friday 29th April to Sunday 1st May


Saturday 14th May, 9.30 am–12.30 pm


Thursday 23rd June, 7.30 pm–9.30 pm


Thursday 18th August, 7.30–9.30 pm


Saturday 17th September, 10.00 am–3.00 pm


Thursday 20th October, 7.30–9.30 pm


Saturday 5th November, 9.30 am–12.30 pm



Authorized by the Vicar (vicar@stpeters.org.au)
and the Institute for Spiritual Studies
Maintained by the Editor (editor@stpeters.org.au)
© 2016 The Institute for Spiritual Studies