A Message from the Bishop Graeme Rutherford
"Do not think of yourself more highly than you ought to think but think with sober judgement." (Romans 12:3)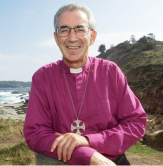 There is a lot about God that we do not know and what we do know is only what he has revealed to us. The implications of the mysteriousness of God are very challenging. One of them is humility. At an attitudinal level humility is the appropriate virtue in approaching God. Humility appreciates both the grandeur of God and our own contrasting limitations. Mystery is not itself a question demanding an answer but an object inviting contemplation.
Frequently people tell me they have prayed about this or that and I see very little humility, very little recognition that we are fallen and finite creatures and that God is grand and great. Could it be that we are just using God to do what we want to do rather than finding out what God wants of us? Anselm (1033 – 1109) prayed, "I do not endeavour, O Lord, to penetrate thy sublimity, for in no wise do I compare my understanding with that; but I long to understand in some degree thy truth, which my heart believes and loves".
May the work of the Institute of Spirituality encourage us in both our contemplation of the mystery of God and the proper attitudinal response of humility.
Bishop Graeme Rutherford
Chairman of the Institute for Spiritual Studies



Program for 2017
Click on the name or title for further details about any event.


Thursday 23rd February, 7.30–9.30 pm


Saturday 25th March, at St James's Anglican Church, Point Lonsdale


Thursday 27th April, 7.30–9.30 pm


Thursday 18th May, 7.30–9.30 pm


Thursday 15th June, 7.30–9.30 pm


Thursday 20th July, 7.30–9.30 pm


Saturday 26th August, 10.30 am–12.30 pm


Thursday 28th September, 7.30–9.30 pm


Thursday 19th October, 7.30–9.30 pm


Saturday 11th November, 9.30 am–12.30 pm



Authorized by the Vicar (vicar@stpeters.org.au)
and the Institute for Spiritual Studies
Maintained by the Editor (editor@stpeters.org.au)
© 2017 The Institute for Spiritual Studies